CORE 2 participates in a moot court
Freshmen in the CORE 2 program had their day in court Wednesday when a case they studied was argued by attorneys in front of the Hawaii State Supreme Court in real-time.  
Students in social studies teacher Lory Dillon's Modern History of Hawaii classes spent the past few weeks learning about the appellate process–how attorneys who lost a case at a lower court appeal to a higher court with the hopes of overturning the verdict.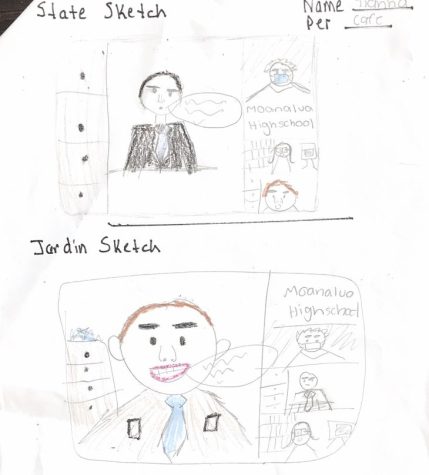 Students listened to the oral arguments that were live-streamed from the courtroom into the school cafeteria and took notes of the proceedings.  They also drew courtroom sketches of the participants.  Chief Justice Mark Recktenwald presided over the proceedings.
Dillon said she provided the background of the actual case, State of Hawaii vs. Jardine, and then had volunteer attorneys visit her four classes several times to help the students understand the appeals process and learn how to write arguments and interview questions. 
Eventually, Dillon said her classes divided into the two sides of the case and practiced arguing as if they were the attorneys, while other students served as the panel of judges. The term for this kind of exercise is "moot court."
The Jardine case involves the state of Hawaii appealing the decision of the state Circuit Court to dismiss second-degree assault charges against John Jardine in 2020.  Jardine's defense attorney argued that the state did not follow proper procedure when they initially charged his client, thus depriving him of his due process.
After listening to the oral arguments, eight Moanalua students were allowed to ask the attorneys questions about the case live. In addition, another four students were able to ask the Supreme Court justices questions.
Dillon worked with the students to prepare appropriate questions and coached all of the students in the practice sessions leading up to the live court proceedings.
"They've done a good job in a relatively high-pressure situation," Dillon said of these selected students.
"It was a great experience. I learned how a prosecution works and how it goes," said freshman Daniel Gandionco. 
The event was part of the State Judiciary's Courts in the Community program. This outreach initiative is sponsored by the State Supreme Court to provide high school students with hands-on experience in the judicial process.