Affordable Fashion
Social media has popularized the trend of shopping at thrift stores. TikTok and Youtube have created content that promotes the cheap prices and clothing selection of thrift stores. To find out the reason behind the popularity of thrift shopping, newspaper staff members, Kendelle Hung-Ino and Britney Maddox went on a shopping trip to Eco-Town and Goodwill.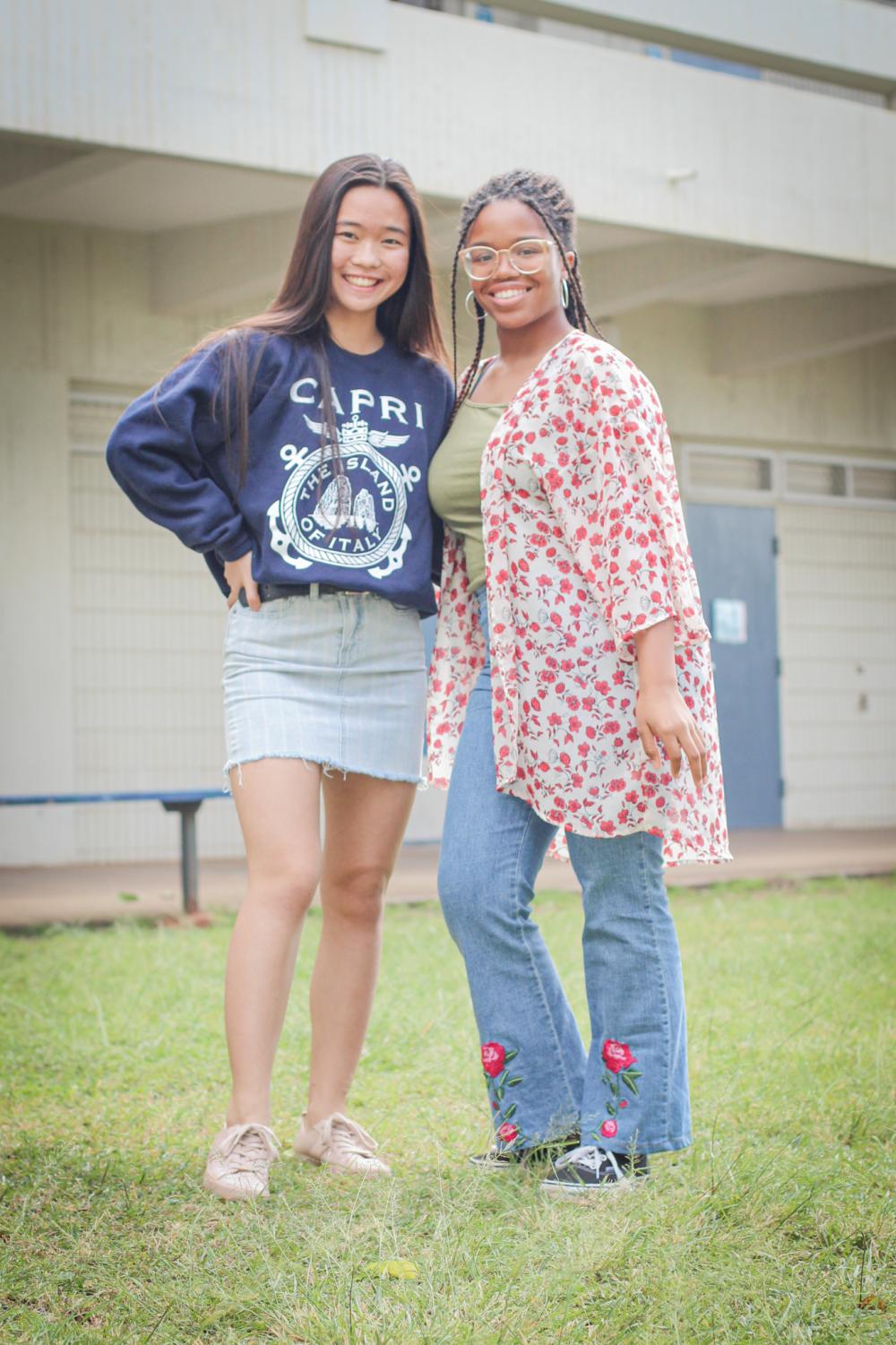 Eco-town:
Eco-Town is a second-hand store that purchases unwanted items to resell in their stores. The items are assessed to ensure they are of high quality (i.e., no broken pieces, stains or rips). Currently, they have locations at Ala Moana Shopping Center and Dole Cannery. For our trip we shopped at the latter. Right off the bat this store was much more orderly than any traditional thrift store I've visited.
All of the clothing items were neatly organized making it much easier to shop. Selection in this store typically fell into the early 2000s to present styles. This made it difficult to find the trendy vintage look regular thrift stores offer. Many of the pieces were new with tags and were generously priced well below the retail price.
The best part was the clearance section where all clothing items are $1.00. I lucked out while digging through the bins and found two tops in tiptop condition. Another note on this location is that they did not have any bottoms for sale. I was also interested in purchasing Canon camera lenses. Their glass case of camera gear is filled with deals. If you want to be boujee on a budget, check out their designer bags, sunglasses, and shoes. which are all priced lower than what you'll find at any retailer.
Overall, Eco-Town is an easy store to begin thrifting. If you are hesitant to delve into the world of thrift stores, start at Eco-Town.
Goodwill:
Goodwill is a donation clothing store that sells donated clothes at a cheap price. The store takes any variation of clothes even if it has rips or stains. The store is organized in rows for shirts, pants and dresses for different sizes. 
Among the racks upon racks of colorful clothing, the store also had toys, notebooks and cooking supplies. The selection of clothing was random consisting of name brand clothes to unheard of brands, which made it a challenge to find stylish clothes. When I did find clothes they had mysterious stains or were torn up. The wide selection of clothes was appealing but most of the clothing didn't fit my aesthetic and instead was geared towards older people.
My goal before going to Goodwill was to buy skirts; however, the skirt selection was very minimal in size variation. I was able to find vintage bell bottoms for a considerably cheaper price than if I bought them online. The price range varied from $5 to $15 depending on the clothing. I would shop at Goodwill for plain shirts because the shirt I bought at Goodwill cost $7, whereas at American Eagle the same shirt cost around $13.
All in all if you are willing to search through myriads of clothes to find the perfect vintage outfit for a reasonable price, then Goodwill is your shop!