Senior College Planning Night
On September 16th the CCC held a virtual Senior College Night to discuss the timeline for senior college applications.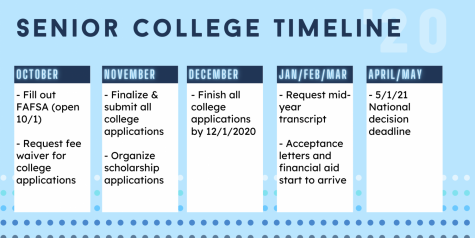 With the Coronavirus-related school closures impacting college applications this year, seniors are likely to have many questions about what steps of the process have changed and what steps have remained the same. College and Career Counselors Tricia Apana and Rebecca Himuro explained some of the changes including financial aid, timelines and the admissions process to Moanalua High School seniors and their parents at a virtual Senior College Planning Night Sept. 16. 
One big change is the loosened requirement for standardized test scores. Several senior students will be applying to colleges this year without SAT/ACT scores. Colleges across the US acknowledged that many students were not able to take the tests last spring because of the school closures. Many colleges will be "test-blind," meaning they will look at other factors of the students' records and ignore scores even if they are sent. Universities said they might still require test scores for scholarships or other special programs.
Fee waivers for SAT and ACT tests, which normally cost between $52 and $55 (without essay portion) are available to students. Eligible students can get two free SATs and six free SAT subject tests with unlimited score reports. For the ACT, students can get two free tests and unlimited regular School Reports. 
May 1 is National College Decision Day when seniors must choose their school so they should submit their final transcript request by this date.
Each college has a different date for submitting an application so students should research some colleges and apply to more than one—five to eight are recommended. Students should be aware of different applicant options as well: early decision, early action or rolling/regular decision. Each one will have different due dates and requirements. For example, students can only apply to one school as "early decision" and must attend that school if they are accepted.
"Seniors should try to complete their college applications by early December," Himuro said. "Many scholarship deadlines are in January, February, and March. Finishing your college applications early gives you more time to focus on scholarship applications in the second semester."
Western Undergraduate Exchange (WUE) schools are a good option for Hawaii students. WUE university tuition is much less for non-residents than other schools. Students from Hawaii can attend many colleges and universities for 150 percent of the school's regular in-state tuition, which is less than out-of-state tuition. 
There are other requirements that students need to meet when applying for colleges and universities. Some schools will require short answers or extended essays. The essay should grab the reader's attention right away and be honest, creative and specific. Some students may need letters of recommendation from teachers and/or community members. It is important for students to ask teachers or counselors at least a month before the earliest deadline. 
Whatever the requirements, students should be aware that the pandemic has changed some of the application process. Many colleges and universities are offering virtual application tutorials or webinars since visiting campuses is difficult. These events are often announced through the weekly College & Career Bulletin. Students also can get help from their regular alpha counselors. 
"If seniors need help with their college applications, they can always schedule a meeting with either me or Mrs. Apana by filling out the Virtual Meeting Request form in the College & Career Counseling Google Classroom," Himuro said.
The Classroom also allows students to sign up for virtual college campus visits and access transcript request forms.