There's No Place Like Home – Ladao Returns to Shape Students' Future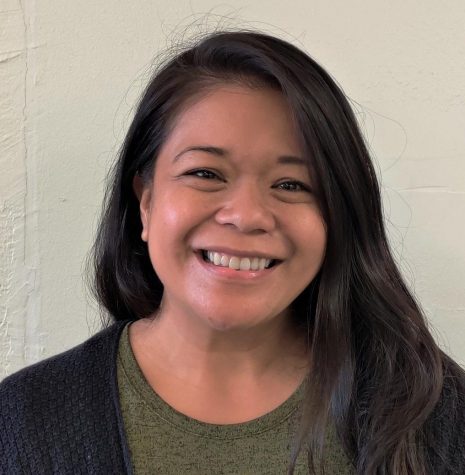 Jennifer Ladao, Moanalua's newest alpha counselor, has landed back at her alma mater. But instead of being a student who is called into the front office, she now calls students to the front office from a desk of her own.
Returning to Moanalua is something she never imagined.
"One of my first interviews out of graduate school was at Moanalua, but I didn't get it," Ladao said. 
Despite the rejection, Ladao realized that she "had a different path" and worked at several schools over a course of eight years, her most recent job being at Kaimuki Middle School.
 "I think her coming from middle school really helps her with our freshmen," colleague and Counseling Department Chair Donna Yamamoto said. "It's also good for us to hear how she worked with younger students and focused on different areas than we focus on in high school." 
Ladao has not only come back to her alma mater, but also to the root of where her counseling journey began.  
Ladao said her only run-in with the administration when she was a student here in the 2000s was getting cited for loitering in the stairwells. And she recalled teacher Kelly Calistro taking away the notes she was copying during an assembly ("I never copied after that!" she said.) So while Ladao was generally a good student, she admitted she was playful in her classes, which sometimes irritated her teachers.  
And like other high schoolers, Ladao didn't have a clear path for her future. But she had "very influential school counselors . . and teachers who helped [her] see that even though you're struggling you have potential in some areas."
"Those relationships in school really helped guide me to figure out what I wanted to do, and that's why I chose counseling," she said.
After receiving her undergraduate degree in English, Ladao continued to graduate school for a counseling degree because she knew she wanted to work with young people who shared her story.
She said she strives to establish meaningful relationships with students and be able to support students by trying to make herself accessible to them.
"I tend to see my students as these are my kids and I want to make sure that they are supported as much as I can give them support," Ladao said.
Inspired by her experiences as a Mene, Ladao strives to help students the same way her teachers helped her find her calling for counseling. Each student's personal and academic success is of utmost importance. She has a special soft spot for vulnerable students. And in the time of distance learning, she understands even more students might be feeling stressed and in need of counseling, all of which must be done online right now.
"
"The hardest challenge…is when I have a student who doesn't succeed. When they fail I feel miserable about it," Ladao said. "
— Jennifer Ladao
"The hardest challenge…is when I have a student who doesn't succeed. When they fail I feel miserable about it," Ladao said. 
This caring spirit is what Principal Robin Martin felt when she hired Ladao this past summer.
"She struck me as a warm and caring counselor who would put her students first," Martin said. "She also showed me how much she wanted to be a part of the Moanalua team."
The fact that Ladao was not deterred by her earlier rejection reflects her interest at remaining connected to her former school, and even her former teachers.
Yamamoto marveled at how her former student is now her colleague.
"I was her math teacher a long, long time ago," Yamamoto said. Today, Ladao brings her skills of being a "good listener, a good team player" to the counseling hallways, she said.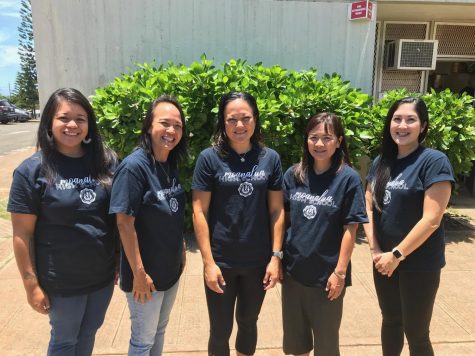 Charvis Bush, Ladao's driver's education teacher, recalled that "she was always nice to everyone."
"I figured she would be doing something along the lines of helping others," he said.
Her senior English teacher, Liane Voss, said Ladao and her friend actually sent her a baby gift when she was on maternity leave.
Even little brother and current Mene MAC teacher Austin Zavala, is not completely surprised at her career choice.
"I got hurt a lot growing up. "Injury prone" was my middle name, and she always wanted to make sure I was doing okay," he said. 
Zavala said while he's always tried to be a good uncle to her three children, working at the same school and having to deal with the stress of the pandemic has brought them even closer as siblings and colleagues. 
"I give her lots of credit for starting a new school, transition[ing] from middle to high school, and during covid," he said.
Outside of school, Ladao juggles her job and being a busy mother of three. Her husband, a radio DJ,  also works long hours early in the morning. When there is time, she will switch on a suspense movie or Law and Order, a change from the Disney movies her kids prefer.
From learning in classes to having an office Ladao has returned to her alma mater and is enjoying helping students navigate their own life journeys.
"I learn from my students, and I hope they learn something from me too," she said.