Don't Stay Silent Use Your Rights
With the Presidential election happening today, both sides are rooting for a change in the U.S. Recent events in the U.S. have caused people to want government reform, sparking a wave of protests on the streets and through social media.
By advocating for change people are exercising their rights to demand equality as a U.S. citizen. With the tension between the police and protesters today, every person must understand their rights. According to The Free Speech Center & First Amendment News and Insights from Middle Tennessee State University, "the five freedoms [the First Amendment] protects [is] speech, religion, press, assembly, and the right to petition the government. Together, these five guaranteed freedoms make the people of the United States of America the freest in the world."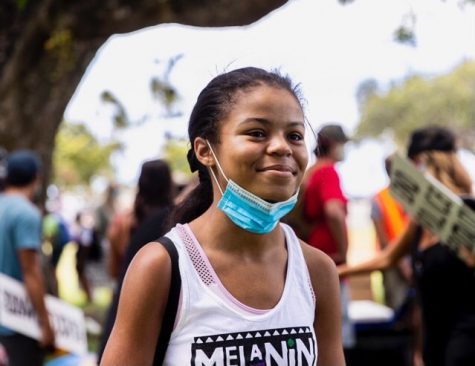 Nikkya Taliaferro, a senior at Moanalua High School, has been using her rights to fight for change in the police system regarding police brutality towards African Americans. Taliaferro is a part of Hawaii for Black Lives youth organization, "a teen advocacy group working to fight against racial injustice, improve communities' justice system, and show that Black lives matter in the Hawaiian Kingdom, " said Taliaferro.
To plan protests for Hawaii for Black Lives, Taliaferro had to "learn about her freedom to peacefully assemble…and what [they] can and can't do when [protesting]."
As a U.S. citizen during a time of protest and injustice, the First Amendment is utterly essential. "Without the First Amendment, religious minorities could be persecuted, the government might well establish a national religion, protesters could be silenced, the press could not criticize the government, and citizens could not mobilize for social change," according to The Free Speech Center & First Amendment News And Insights From MTSU.
The First Amendment allows for anyone to speak up for their rights and demand a better life. The Atlantic stated that "protests are signals [to the government that] we are unhappy, and we won't put up with things the way they are."
Even during the coronavirus pandemic, where assembling can be a challenge, there are ways to advocate for different issues through social media. Taliaferro uses Hawaii for Black Lives' social media to inform their followers about current protests and information. She believes "…advocating on your social media can be just as important as having a bigger platform."
"
"…advocating on your social media can be just as important as having a bigger platform.""
— Nikkya Taliaferro
 Whether it's protesting in the streets or on social media, every person can use their rights to impact the government.
Taliaferro advises there are many ways to use your rights whether, "marching, using your right to…petition the government, submit testimonies, speak aloud about bills you want to pass or advocating on social media."
Though currently the presidential election is causing tension in the country about the future. As citizens, people's rights to protest, speak out  and vote allows them to shape the government in a way that represents their values.