'Tis The Season to Retire
With winter break about to start teachers with 20+ years are about to retire. The teachers retiring in December are Ms. Major, Mr. Kiyabu and Mrs. Calistro. Each teacher has a memory of Moanalua they will treasure as they adventure into retirement.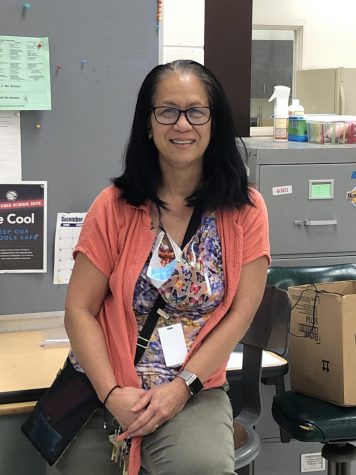 Ms. Major
Sharon Major, Moanalua's Business core, Accounting, Finance, and Law instructor for over 18 years is retiring at the end of this month.
Major assists in supervising Moanalua's Travel and Tourism and Quick Serve teams and experienced countless championship wins with her students.
"Moanalua is a great school in the sense that there is pride in work and good friendships," Major said. "We used to tell them 'look left look right…  this is your competition.' Our students strive for excellence. They just work way harder and… they are willing to put that work in."
Her favorite part about being at Moanalua is working with students; they always make her laugh and feel a bit younger. She enjoyed being able to see and encourage talents in students she encounters. The biggest challenge she had to overcome was not being able to reach out personally to students, especially during distance learning. She hopes that students will take away that wherever they are, make it a better place with whatever skills and talents they possess.
After retiring, the first thing Major wants to do is to hug her mother. Due to COVID-19 and her job working with students Major had to be cautious near her mother. After retirement she hopes to spend more time with her mother, work with senior citizens, and travel with her husband to Canada and with her friends to Japan when it is safe to travel.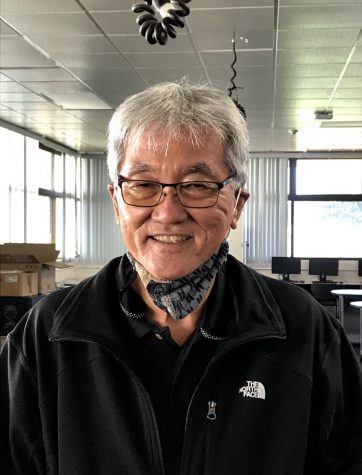 Mr. Kiyabu
Lance Kiyabu is retiring from Moanalua; after three years of working as a Technology Coordinator and thirty years teaching electronics
His favorite memory was when he first got hired to work here because of how difficult it was to be hired.
"Moanalua is known as a prestigious school, the private school of the public schools," Kiyabu notes.
"[It will be] difficult to replace someone with his qualifications," said Joanne Yonamine, Kiyabu's Tech Coordinator partner. "He's super knowledgeable."
Not only did Kiyabu work as a Tech Coordinator, he also coached baseball and became an assistant coach for football. Kiyabu is excited to spend his retirement fixing his house and golfing but he'll miss his students.
"To the students; enjoy high school because it goes by fast, treasure your classmates and stay in touch with each other. To the teachers; good luck with everythings that's going on and stay safe."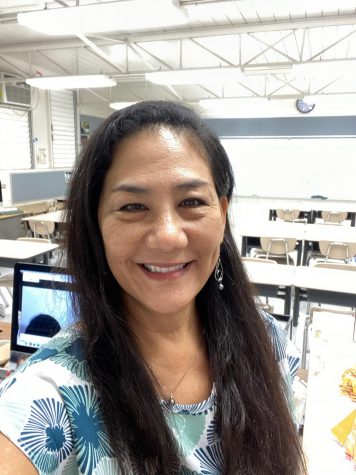 Mrs. Calistro
Media Learning Center and social studies teacher Kelly Calistro, who has been working at Moanalua for 31 years, is preparing to retire at the end of the month.
Calistro helped develop and expand the school's MeneMAC (Media and Commnications) program over the past 17 years, even reaching out to Moanalua Middle School to create a MiniMAC program to get the students there started in media,
In addition to teaching, she was the varsity cheerleading head coach early in her career for ten years. One of her favorite moments at Moanalua is when the squad made it into the top five at the state competitions in the 1990s. Her work laid the foundation for the consistent strength of the current program.
"I've really enjoyed my years here at Moanalua High School," Calistro said. "Being involved with different programs, working with different teachers, and even becoming friends with my former cheerleaders bring so many great memories."
Another favorite moment came during last year's lockdown. The group of students representing Moanalua traveled all the way to Washington, D.C. to attend the national Student Television Network competition, only to find the event had been cancelled the day after they arrived. Eventually, the organizers announced the winners of the various contests and Moanalua won in five categories, including top prize for its short film "Stargazer."
Though Calistro is retiring, she doesn't plan to be far away from Moanalua. When taking breaks from watching her grandchildren, Calistro also plans to be a substitute teacher and continue to help out the MeneMAC media program.
Calistro wants to remind students "to continue to strive for excellence, I want students to…change the world, make responsible choices and make us proud."