The Showstopper Technology
Thanks to the building manager Jensen Ball, I was able to receive a complete tour of the new Performing Arts Center at Moanalua High School. The first design for a new performing arts center was made in 1998, when the area was only occupied by two portable classrooms and some trees. Now over twenty years and thirty three million dollars later, the completed building contains technology that didn't exist in 1998.
The first thing that struck me was just how big the auditorium is. With 694 seats and immensely tall ceilings, it was bigger than anything I imagined. However, there is a lot more to the building than meets the eye.
About thirty three million dollars was spent in the making of the Performing Arts Center; for everything from building design to manual labor to the high tech interior. The new laser projector alone cost around $150,000. The auditorium is also set with motorized lights that can be controlled from a box on the stage or in the projector room that controls all of the microphones, stage lights, and lights for the whole building. There are panels surrounding the stage that project even the smallest sounds straight to the audience.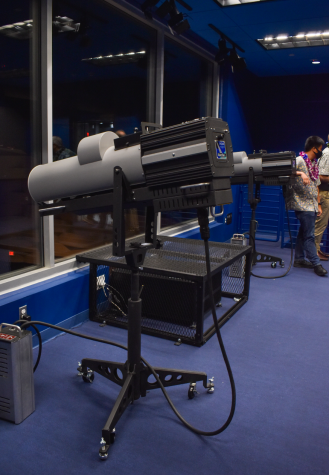 Another impressive feature of the auditorium is the orchestra pit. An orchestra pit is the area in a theater where musicians perform. Ours is actually under the stage itself. There are removable panels at the front of the stage that allow the audience to clearly hear the live music. The orchestra pit is also outfitted with sound panels that project the music. To get to the orchestra pit musicians take one of the elevators and go underneath the stage where they can set up their instruments.
Backstage is also no snoozefest, including controls to the curtains that reel straight up into the ceiling.  One of the reasons why the ceilings are so high is because of how all the curtains rise into the ceiling. The projector screen is also raised to the ceiling when not in use. Backstage also had a costume room, a green room lounge for guests, and a dressing room with lockers and bathrooms. Whatever program is happening on stage can be heard in all of those rooms so that actors know when their cue is coming up. Restrooms and hallways open to the public are also connected to the same speaker unit. 
It's incredible how many new features are included in the performing arts center, and while there are no current plans for the building beyond being an AP test-taking center, the auditorium is open for reservation and ready for whatever the next event may be.