Top 10 Movies of 2020
I think it's safe to say that with hindsight, 2020 wasn't the best year. The consequences of certain events have cast an unmoving shadow above us all that will stay with us for a long time more. Staying inside during a pandemic has left a void in my life (as I'm sure it has to many of you), and movies were what helped me fill it. And while I did catch up on a ton of classics that I absolutely loved, I was also able to catch a ton more movies than I normally wouldn't have seen. 
If there's one thing I don't like about movie theaters, it's how expensive they can be. But a lot of movies have been made cheaper now so people can actually watch new releases digitally, especially indie films. And streaming services such as Netflix and Hulu have been a big help as well, and I'm excited to watch more movies this way, and hopefully still support movie theaters when I'm allowed to go again. 
But now that I've caught up on some higher profile films to watch for Oscar season, I want to take a look back and talk about my ten favorite movies released in 2020. Many of these may not be the most well known, since many of the big block-busters scheduled to release were pushed back and are still getting pushed back (poor No Time To Die), so I'm even more excited to be sharing this list with you all. Before I continue though, I want to briefly go over some honorable mentions.
– Hamilton: the iconic Broadway musical was miraculously shot to look and feel like a feature film, while still keeping the spirit of what is now a cultural touchstone. Available to watch on Disney+
-The Wolf of Snow Hollow: Jim Cummings did a great job directing, writing, and acting in this unconventional werewolf movie. Available to rent on all digital platforms
-The Trial of Chicago 7: Aaron Sorkin delivered another sharp, shocking, and incredibly entertaining film based on real-life events that everyone should know about. Available to watch on Netflix
-Voices in the Wind: one of the most heartbreaking movies I've seen in years, with a brilliant performance by Sofia Mottola. Unfortunately unavailable to watch anywhere at this time.
-Palm Springs: an extremely fun and original timeloop comedy that made me forget about my troubles for a while, and with a pretty great cameo to boot. Available to watch on Hulu
-And Devs: Alex Garland made my favorite television show of the year, and continues to cement himself as one of my favorite film-makers working today. Available to watch on Hulu
I want to inform you all that even though I waited until Oscar season so I could catch up on some movies I missed, I have not seen every movie released in 2020, and this list may very well change as time goes by. This is also an entirely subjective list; no one can decide what your favorite movies of 2020 are but yourself. If you liked the live-action remake of Mulan, no one should tell you differently (though I will passionately disagree with you if you do). But needless to say, I highly encourage you to watch all of these. Now with that out of the way, here are my top ten favorite movies of 2020. 
10. Bad Education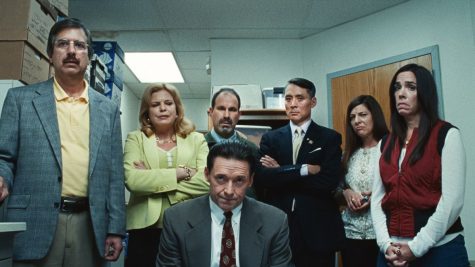 HBO Films
In one of the most entertaining movies of the year, Corey Finley made a surprising and audacious film based on real life that holds nothing back in regards to the education system. Hugh Jackman is Frank Tassone, a school superintendent struggling to keep everything from crumbling down as an embezzlement scheme is uncovered by a student. Jackman gives his best performance since The Prestige, and is charismatic to the max. But the intricacies in his performance start showing as layers start unraveling in the narrative and both start becoming a lot more complex than meets the eye. I've always been fascinated by true crime, especially when they're adapted into something as interesting and riveting as this. While I can't say for certain that everyone will enjoy this, I can say that you will never look at the education system the same way again.
Available to watch on HBO Max
9. Da 5 Bloods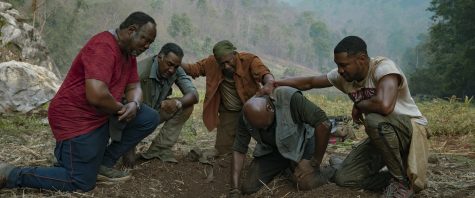 Netflix
Spike Lee's most recent film somehow came out at exactly the right time. It was released in the aftermath of the unjust murder of George Floyd, and if you know Spike Lee, then you know just how much he loves telling stories of racial injustice. This one is about four Vietnam war veterans who go back in their old age to search for the remains of their fallen brother (an almost prophetic Chadwick Boseman), as well as some buried gold that they found back in the day. All the acting is fantastic, but Delroy Lindo in particular gives what is still one of my favorite performances of that entire year; he was egregiously snubbed by the Oscars. He is haunting as a man disillusioned by modern America, and the journey that he goes on feels emotionally epic. Tense, funny, and brutally honest and powerful, this will go down in film history as one of the most important movies of 2020.
Available to watch on Netflix
8. Sound of Metal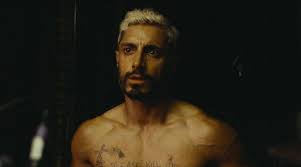 Amazon Studios
There's a lot to love in Darius Marder's directorial tour de force. But the most obvious piece of praise goes to Riz Ahmed as Ruben, a drummer who loses his hearing and has to learn to live with it. His performance is the stuff of legend; it will be studied for years to come. It's unfortunate that he won't win Best Actor at the Oscars this year since the competition is so stacked, but he deserves heaps of praise nonetheless. By just looking in his eyes, you can see the anguish he is going through, and the frustration feels real. Also notable is the sound, which made me realize just how much I love to listen to the world around me. The usage, lack, and distortion of dialogue and background noise at times made for a truly empathetic experience that serves as one of the most unique movies of the entire year. This, to me, almost serves as an empathy test. It's nearly impossible not to feel for Ruben, and seeing where he ends up leads to some powerful catharsis. It's a little slow, but give it a shot! And watch it with headphones if you can, trust me.
Available to watch on Amazon Prime
7. Never Rarely Sometimes Always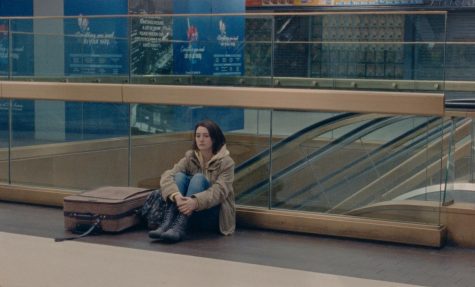 Focus Features
Perhaps the most overlooked movie of the year, this independent drama by Eliza Hittman makes for an extremely emotional watch. I'll give a warning right now: more so than any other movie on this list, this is easily the most controversial. A pregnant teenager named Autumn (played marvelously by Sidney Flanigan, in her first acting role) travels to New York with her cousin to get an abortion and discovers just how difficult life outside of home can be. I recognize that abortion is a sensitive subject; many have been dissuaded to watch the film because of this. But I encourage everyone to leave your biases behind. Because if you do, you'll find a deeply affecting story about a scared girl going through not just a personal endeavor specific to her, but the teenage experience that all of us are going through right now. This is one of the best movies about the teenage experience out there, and Eliza Hittman should be very proud.
Available to watch on HBO Max
6. Soul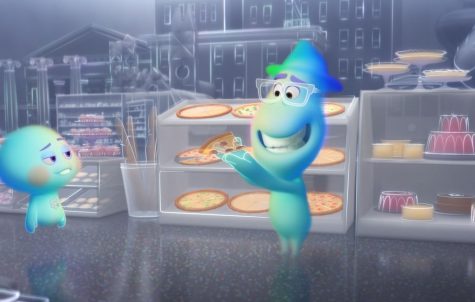 Pixar Animation Studios
With Soul, Pete Docter proves himself to be one of Pixar's greatest assets, and makes possibly his best film yet. This is significantly weirder than any other Pixar film that came before, and I respect it all the more for that. The film can get very metaphorical and abstract at times, and the choice of music by Trent Reznor and Atticus Ross is the closest a movie score has ever gotten to sounding like lofi. And that's a good thing, because all these elements only contribute to the film's beauty. Telling a story about just how joyous life can be, the film feels like just the type of movie that families needed to watch in 2020, as it's both intellectually stimulating and inspiring. Pixar has knocked it out of the park again, and I can't wait to see this win the Oscar that it wholeheartedly deserves.
Available to watch on Disney+
5. Promising Young Woman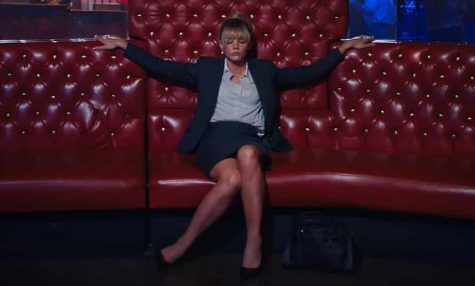 Focus Features
First-time director Emerald Fennell crafted one of the best revenge films to grace cinema in years with this unconventional, honest, and feminist take on the genre. Every aspect of this film is aggressive and stylish, from the crisp and snappy dialogue to the neon color palette that makes every scene pop in just the right way. This aggression and style is best displayed by Carey Mulligan's Oscar-worthy performance, who does such an amazing job as a woman out for revenge, that I couldn't help but love her, despite certain things she does. This is a movie entirely about morals; every character in this film has their morals tested at one point or another. Mulligan as Cassie wants justice, but it isn't whether or not she gets it that's compelling, but the journey that she goes on to get there. The lengths that some people will go to achieve justice can be extremely extensive. Maybe too extensive. I was shocked at what happened in the end, but it personally worked for me. Incredibly divisive and unabashedly fearless, this film has not left my mind since the credits started rolling.
Available to rent on all digital platforms
4. I'm Thinking of Ending Things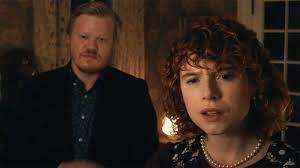 Netflix
Charlie Kaufman proves himself to me to be an equally exceptional director as he is a writer with this one-of-a-kind thriller. The film isn't thrilling because of tense scenes that build to an awe-inspiring crescendo ala Parasite. No, the tension comes from just how bizarre and unpredictable this story and setting is. If you've seen any of Kaufman's previous works, then you know how unique and just plain different they all are from the rest of the movie world. This will certainly not be for everyone; answers are never given on a golden platter, and it requires a lot of deep analyzing just to make a little bit of sense out of it. Even I don't fully get it yet! But that's the fun part of Kaufman's films for me. He's one of my favorite creative minds working today for that precise reason. I love digging into films, examining every little detail, and thinking about them for hours on end. Especially when they're as weird and as awesome as this.
Available to watch on Netflix
3. Minari
A24
I remember being terrified when I heard that Lee Isaac Chung was set to direct a live-action, American remake of the anime Your Name, one of my favorite animated movies. But after watching Minari, I have complete confidence in him. Without a doubt the most American movie of the year, Minari follows a Korean family who settles in Arkansas to achieve the American dream, and how the youngest of them all, David, views the whole situation. Alan Kim's performance as David is the heart-and-soul of the entire film and acts as the glue that holds his family together through the toughest of moments. It's this love for family that I found the most striking about Minari. So often in movies, I am told about the importance of family, and the message is so obvious that it makes me want to roll my eyes. But Lee Isaac Chung made a sincere, well-acted, and uplifting drama that left me in tears. I want more movies like Minari; movies that simultaneously fill me with joy and crush my soul.
Available to rent on all digital platforms
2. Nomadland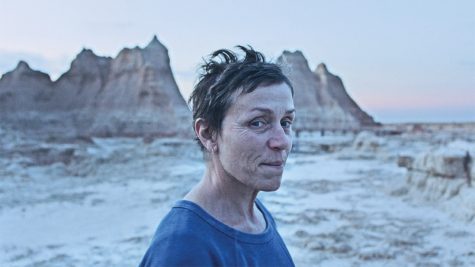 Searchlight Pictures
I feel that of all the movies released in 2020, Chloe Zhao's Nomadland is the most important. The film tells the story of Fern, a woman who lost nearly everything in a recession, and decides to pack up all that she has and live in a van as a modern-day nomad. American society is one that looks down on people like Fern. She doesn't follow the same "American dream" that the family in Minari does, and she isn't trying to accomplish anything externally. And I suspect that many people will not like this film. Because it is mundane, it is simple, it is honest, and it is subtle. But more than any of that, it is beautiful, and it is true. The images on screen are something to behold, and the emotional, almost spiritual, journey that Fern undertakes feels like therapy for her and for us. Chloe Zhao's usage of untrained actors, real-life nomads, makes the experience all the more personal, and her direction makes the movie feel ethereal, even if nothing grand is happening. The honesty of Nomadland has stuck with me ever since I first saw it, and I think in 2020, some honesty about how we as people choose to live our lives was much needed. If things go the way everyone (including myself) predict they will come Oscar night, I'll be very happy watching this win Best Picture.
Available to watch on Hulu
1. Another Round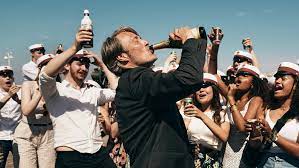 Samuel Goldwyn Films
On the surface, this Danish film starring Mads Mikkelsen is a simple comedy about four teachers trying to maintain a constant level of alcohol in their bodies throughout the day. But upon watching it, you'll find that this masterpiece by Thomas Vinterberg is so much more. It's about living life to the fullest, enjoying it while it lasts, and learning to find balance in life. Speaking of balance, the film perfectly balances the pros and cons of drinking alcohol, as well as varying tones, that (though I can't say for certain) probably emulate what it's like to be drunk. Mikkelsen continues to be one of the best actors working today, and his dedication to the role is evident in the film's final and brilliant scene. Like I said earlier, 2020 really wasn't the best year for all of us. I took my life for granted, and I'm ashamed to admit it, but a movie helped me to realize that. This was the exact movie that I needed to watch at the tail-end of 2020 and to realize that I needed to live my life again. Those final five minutes capture that feeling of not just clarity, but living, oh so perfectly. It means so much to me and I love it with all of my heart, which is why Another Round is my favorite, and also the best, movie of 2020.
Available to watch on Hulu