Remember to find the beauty in practice
Junior Ethan Mina reflects on his season in marching band as a part of the drumline.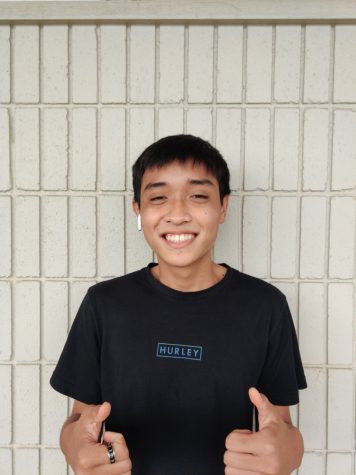 Life has been stressful, and when I thought about why this is, I immediately thought about marching band. I could blab on about how marching band prevented me from doing work on time, but that's not true. In a discussion I had recently in English class, I mentioned I hate the word "beauty." Maybe I hate the word because I haven't taken a step back to appreciate what beauty is. 
Although I didn't realize this until after the season was over, I realized that our marching band is beautiful. It is blood, sweat, and tears all mushed in with anger, fear, and happiness. More than anything this year though, it was anger. I was angry most of the time, I was angry because I felt that no matter how much I did, it was never enough. I felt that I had to prove myself, every day in and out of rehearsal. I felt that I needed to keep myself up to a standard I could never achieve. I pushed the drumline so hard that I never had fun. I pushed everyone in my section to strive for a standard of excellence that was not only good to my expectations, but also to a standard where everyone else would notice. 
Ironically, as my section got better, I got worse. The pressure I put upon myself paralyzed me. I chose not to do work, I chose not to study. I needed time for myself. Marching band is never an excuse as to why I can't do well in school.  But I was tired, I didn't want to fix my schedule, I didn't want to do anything outside of marching band. I was so laser pointed on it that everything else was cloudy. 
I regret not sitting back and having fun instead of just working on making the final performance the best. I always traded what could have been my fun time to do work instead. It was late in the season when I decided to change. When the final practices came, I chose to just have fun, and every rehearsal became a lot less stressful. We played our last note of the season two weeks ago, and as the sound faded, I realized this is beautiful, and this beauty is now a moment, a memory in time. 
Just like the speaker in E. B. White's essay The Ring of Time, I realized the beauty of the activity. It was a constant slow motion and everything was graceful, just like how that circus performer was in White's essay.  That beauty could never be experienced anywhere else except for in that circus or on our field. The best I can do is say that that last performance was unique and different compared to every other time it was performed. It is something that we can only truly enjoy as it happened. And experiencing it through a recording after it's done is completely different. 
I realized this beauty too late.  The objective of my music experience must be practical from the start. Unlike the steamboat captain in Mark Twain's "Reading the River," whose appreciation of the river went from beautiful to practical, I need to go from practical to beautiful. To do that I needed to step back. It's honestly like that for anything. To appreciate any work you've done, you need to step back for a bit. If you work on a mural one inch at a time it'll seem like you're getting nowhere. It'll feel tedious, hard, and boring, and bland. When you finish, all you'll see is the final color in the small one-inch by one-inch block, then you'll remember the terrible, boring time you had with all the other colors. But step back, and you'll see that you've created a masterpiece. If you never stepped back, you would've never known. 
That's what I realized about marching band. Every day felt like a color block in a one-by-one-inch space on a massive mural. It was all practical because that's what it seemed like in that small confined space. I never took the time to see the progress and enjoy myself. When I did, it was beautiful, even if the journey there wasn't. The end result is timeless, but finding the beauty in the practicableness of it is what truly makes it beautiful from head to toe. It's definitely a lesson well learned.