Sophomores' Krispy Kreme fundraiser helps them reach the stars
After a long day of classes on February 4, students and staff eagerly lined up by the parking lot to pick up their pre-ordered donut dozens. It wasn't just any donuts, but Krispy Kreme donuts. The smell of the sugary confection filled the air, as the sophomore class handed them out to complete the last leg of their January fundraiser.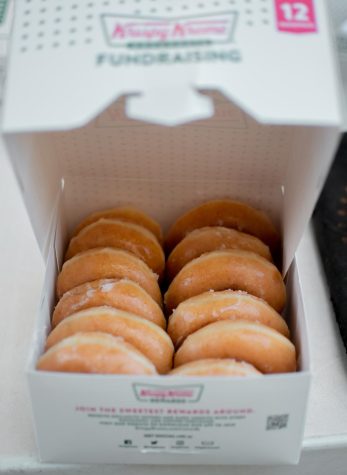 The donut treats are unavailable for purchase on Oahu. The well-known American donut chain only has a store on Maui within the entire state. Through the help of a student, the sophomores were able to set up a fundraiser despite the logistics of transportation and airfare.
After a month of open pre-orders, the demand for the famous donuts was shown in the turnout of not only sophomores but people all around the school. Freshmen to teachers wanting in on the Krispy Kreme craze, with over 260 dozens of donuts ordered. The profit will support the upcoming Freshmen/Sophomore Banquet, "Starry Nights".
"I feel proud of how successful our fundraiser was and I hope to see the same result happen to our future fundraisers as well!" the sophomore fundraising chair Jiawen Nie said. "Thank you to everyone who supported and helped out."