Two of pro football's great quarterbacks head to retirement
Professional football quarterbacks Tom Brady and Ben Roethlisberger's decision to retire from the National Football League this year bring to a close an amazing era of the game. Both have been in the league for a long time and have both had noteworthy careers. 
Brady, who ended his 22-year career with the Tampa Bay Bucaneers, is arguably the best quarterback in the history of the league. Brady has been in the league since 2000, spending 20 years with the New England Patriots before moving to Florida. In this time he has achieved so many things. Brady has three MVP awards and six all-pro team selections. In addition, Brady has been to 10 Super Bowls, winning seven of them. Brady holds the all-time leader in completions, touchdowns, passing yards, and quarterback wins. 
The Pittsburgh Steelers' Roethlisberger also has many accolades, these being named to the Pro Bowl six times and a two-timel games passing yards leader. Rothlesberger has a total of 2 super bowl wins Ben has been to the super bowl 3 times. 2 super bowl wins might not sound that good when you hear about Brady's 7 wins but 2 wins is incredibly good. Roethlisberger was drafted in 2004 he has played 4 years fewer than Brady.
Brady retired because he was unsure of how useful he would be to the team . He stated that if he was not at a super bowl level skill then he would not play. He says that if they are not going to win it is better to give the next quarterback his turn to get some reps in. Another reason for his retirement is his family. He wants to have more time with them and not have them worry about him getting injured on the field or worse. He talks about how his wife would worry about him when he would play. Roethlisberger's reason for retirement is much different than Brady Roethlisberger is old and is very injury prone for his entire career he has suffered many injuries and is one of the most mobile quarterbacks in the league so of course he would get sacked a lot. Roethlisberger has been sacked a total of 554 times in his career.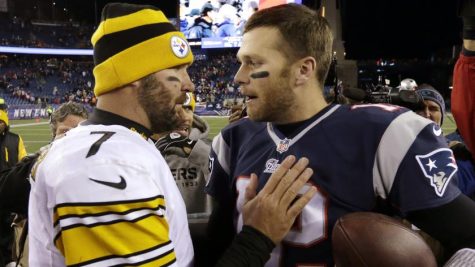 photo courtesy NBC Sports