Top 10 movies of 2021
2021 is far behind us, but I'm still thinking about the movies that were released last year. Many of them were really great, and some of my favorites were even nominated at the Academy Awards. Putting aside the lackluster ceremony and a certain slap, the winners and nominees may not have been all that I hoped for, but I can't deny that I was unhappy with CODA winning the top prize. But that was far from my favorite movie of that year, not even placing in my top ten. And since the Oscars made the decision to have a set amount of ten Best Picture nominees, I think that it's only fair for me to share my own personal top ten movies of 2021 (the real Best Pictures if you will). My favorite movies of the year consist of a variety of films, some of which I saw on the big screen, some of which I saw at home, but I really loved all of them. And while I enjoyed the biggest box office success of the year to an exponential degree, the movies on this list are the ones that truly touched my heart, made me think and reflect on life, and made me love movies the most.
As is tradition with this list, I have six honorable mentions before the top ten that I simply could not exclude; there unfortunately was not enough room to fit all the movies I loved in 2021 into that top ten.
C'mon C'mon

: Mike Mills made one of the most endearing and important movies of the year in this lovely film about a lonely man and his nephew learning to connect and see the beauty amidst the chaos of life.

Judas and the Black Messiah

: This film may have come out early in the year, but it remains one of the most captivating and thrilling movies of 2021, with an all-time great performance by Daniel Kaluuya as the revolutionary Fred Hampton.

Drive My Car

: Japan's first International Feature Film winner at the Oscars was beautiful, telling a long yet satisfying story about control and moving on that touched my heart.

The Suicide Squad

: James Gunn gifted comic-book fans with another amazing film in the genre, and it was one of the most stylish and entertaining movies I had seen all last year.

Pig

: Nicolas Cage gives one of his best performances in this surprisingly stirring film about a truffle hunter searching for his pig, and it made me reevaluate what I truly care about in my life.

Summer of Soul (…or, When the Revolution Could Not Be Televised)

: Questlove's documentary debut is full of life, reassembling footage of an important event in black history that was lost to time and passionately brought into the public consciousness.
As with every year, I have not seen every single movie that was released, as that would be impossible and too draining even for me. And of course, this list is highly subjective. Some of these movies you may not have even heard of, and some of them (my number one film in particular) may sound utterly repulsive to you. And that's ok! Different opinions are what make us all unique and interesting, and it allows for some fascinating discourse about film. This is simply my personal list of my ten favorite movies of the past year, and I hope to introduce at least one person to something they might be interested in watching. Without further ado, this is my top 10 favorite movies of 2021.
10. Evangelion 3.0 + 1.0 Thrice Upon a Time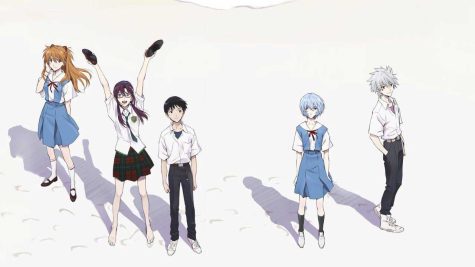 As a massive fan of Neon Genesis Evangelion and the finale movie, End of Evangelion, I was a little disheartened when Hideaki Anno's rebuild series (a retelling of his own original anime) didn't live up to what came before. That disappointment only made for a greater surprise when it revealed itself as the bookend to a very long franchise that coincided with Anno's own personal growth, and the end result is incredibly cathartic. Anno has clearly changed into a healthier person along with his franchise, and this movie's utterly beautiful ending is a heartrending reflection of that. This film is not afraid to take its time to tell the conclusion to all of Evangelion, and the first hour in particular is masterful in creating an environment that, after so much chaos in the previous movies, is therapeutic not just for the characters, but for the viewers as well. Add that sense of finality, the culmination of all these fleshed out characters that I love, to the gorgeous and detailed 2D animation and exhilarating action and music, and the result is one of the most personal movies I saw all last year.
Available to watch on Amazon Prime
9. Spencer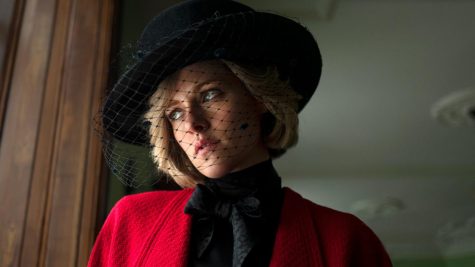 Of the plethora of biopics released in 2021, Spencer easily ranks as my favorite. Kristen Stewart stars as Princess Diana of Wales as she struggles through a Christmas weekend with the royal family. While this is a biopic in concept, the film is really a fantasy story of how Diana's life could have gone. And as such, the filmmakers allow themselves to do unconventional things within the story, such as horrifying visions and bizarre editing choices. These explicit decisions, along with the avant garde Jonny Greenwood score, Claire Mathon's haunting cinematography, and Pablo Larrain's steady direction all contribute to a claustrophobic and harrowing environment. But the entire film would have faltered if Kristen Stewart did not give such a stunning performance. She captures anxiety to a tee, and her melancholic state is clear even when she is simply walking around; this is easily one of my favorite performances of the whole year. She makes this movie the royal powerhouse it is, and it's downright tragic that history can't be changed so Diana could live a happy life.
Available to watch on Hulu
8. West Side Story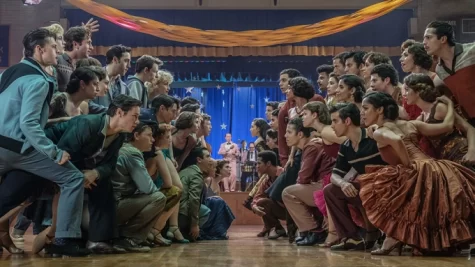 Steven Spielberg breathed new life into this classic musical, making it explode onto the screen with passion. His direction is masterful, letting the audience bask in the glory of the jaw-dropping choreography. The camera swings around the luscious locales and exudes the energy that the characters feel, most of whom (the movie unfortunately has an Ansel Elgort problem) are acted brilliantly, especially Ariana DeBose and Mike Faist. And Tony Kushner's exceptional screenplay (undeservedly snubbed at the Oscars), expands on the ideas of racial and class tensions and hate breeding hate to make the movie more impactful in the end. This is one of the best looking movies of the year, and it's Steven Spielberg's best film in over a decade.
Available to watch on Disney+
7. Dune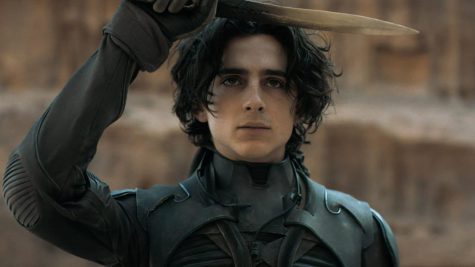 By far my favorite experience in a movie theater of the entire year, my most anticipated movie of 2021 absolutely lived up to the hype. Dune is a staggering cinematic triumph, creating a universe that truly feels as lived in as the iconic source material. Denis Villeneuve faced the challenge of adapting a world and saga that many felt was too grand and weird for the silver screen in full gusto, with his calculated and controlled direction capturing the stunning size of Arrakis and their people. By actually filming in a desert and using practical sets, every location and set-piece feels real. This allows the visual effects to only be used when they need to be, and thankfully, they are some of the most realistic in film history. But Dune's greatest achievement is its sound, both Hans Zimmer's masterpiece of a score and the visionary sound design, which was so effective in execution that simply writing about it is giving me chills. And at the heart of it is Frank Herbert's exceptional coming-of-age story, told in half. I'm already counting down the days until Dune Part 2.
Available to watch on HBO Max
6. Flee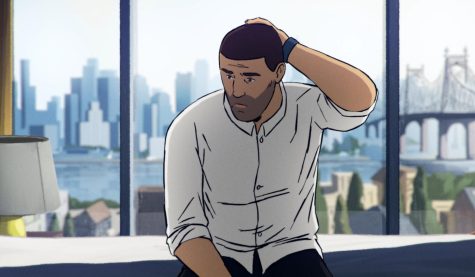 Flee breaks the boundaries of what a documentary can be in the most captivating way possible. Told in wonderful watercolor animation to protect the identity of the narrator, this Danish documentary tackles one man's harrowing journey of not only escaping Afghanistan and Russia and his path to freedom, but also healing his soul from the trauma his immigration caused. With the beating propulsion of a thriller, Flee displays itself with sincerity and as accurately as possible, wringing raw emotion out of almost every scene. I felt as if I were on this odyssey too, having the same nervous breakdowns and nostalgic feelings for childhood that the narrator does. As desperate and hopeless as the story seems at times, especially whenever the narrator recounts his life's story, there is an optimism to be found in his perseverance. I left the movie feeling inspired and thankful for the life I live, and more empathetic towards others, in particular immigrants like the main character, who don't have the same fortunes that I take for granted. This relevant documentary is essential viewing.
Available to watch on Hulu
5. Licorice Pizza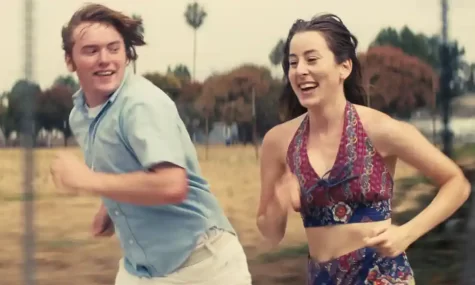 Paul Thomas Anderson has done it again, having created his most joyous movie yet. Set in the '70s San Fernando Valley, PTA goes right back to his childhood playing ground in this gorgeous love letter to the time period, telling a love story that comments on the land of opportunity and exploration. Gary Valentine is a fifteen-year-old entrepreneur, and Alana Kane is still trying to figure her life out at twenty-five; as much as their relationship shouldn't work, it absolutely does. The chemistry between newcomers Cooper Hoffman and Alana Haim respectively are very impressive and naturalistic, and I could watch them do just about anything. Which is what makes this screenplay so good, because Anderson does often put these two in random, funny situations that test their maturity and relationship. There is no overall plot that Anderson is concerned with, just this relationship and how the two characters navigate it amongst a turbulent time. I would watch this again in a heartbeat, and it's another masterful film from one of my favorite filmmakers.
Available to rent on all digital rental platforms
4. Mass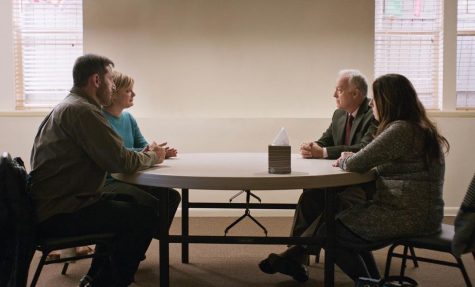 Some of the best movies are the simplest, and Mass is a shining example of this assertion. Mostly set in one singular room, Mass follows two sets of grieving parents who sit down to have a conversation in the aftermath of an unfathomable tragedy: the loss of a child. This is a devastating film, one that many will find hard to stomach. Not just because of the subject matter, which is monumentally important, but also because this is nearly two hours of four people talking. But these four people are given actors who play their parts to perfection, all of whom give some of the best performances of the year. Even when they aren't breaking down on the outside, you can tell that they are dying on the inside through decisions so subtle that I forgot I was watching actors in a film. The conversations also feel wholly realistic, and above all, fair. The script gives all of the parents their own voice and reasoning, culminating in a beautiful message about forgiveness and moving on. And first-time writer and director Fran Kranz demonstrates masterful instincts behind the camera, finding clever and creative ways to not only make a movie set in one room have interesting shot structure, but produce wide-ranging emotion, whether it be nail-biting tension or tear-jerking sadness. No movie from 2021 stirred my emotions quite like Mass, and I encourage everyone to watch it.
Available to rent on all digital renting platforms
3. The Mitchells vs. The Machines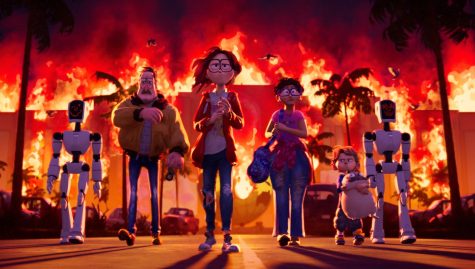 Sony Pictures Animation, the studio behind the masterful Spider-Man: Into the Spider-Verse, struck back in 2021 and delivered another stunner of an animated movie, my favorite one since Spider-Verse was released. The Mitchells are not your normal family; each one of them is absurdly weird in their own lovable way, but they don't get along too well. And the best way to fix that? The robot apocalypse of course! From the internet humor that turns the insanity meter up to 11, to some of the best animation that these eyes have ever seen, this film is colorful in every possible sense of the word. It explodes with personality, but never crumbles under the weight of the premise by making this a story about a family reconnecting with one another. Katie Mitchell, the main character, is one of my favorite movie characters in years. She is extraordinarily relatable in her teenage dreams and relationship with her parents, but also has a lot of depth that got me to care about her besides that. I loved everyone in this movie, which made the final act surprisingly powerful. And I haven't even mentioned the commentary on how we have become addicted to technology! This is an absolute joy of a film that I would recommend to anyone.
Available to watch on Netflix
2. The Power of the Dog
My love for this film has not waned since I first watched this film. If anything, I love this even more with time. Movies like The Power of the Dog should not be ignored by audiences just because they are slow and quiet at times and the main character is a human monster. There is so much underneath the surface here that once you pull back the curtains and uncover them, you will never look at this movie the same way again. The performances are out of this world, especially a dogmatic Benedict Cumberbatch, and the technical aspects of the film shine just as bright. One of the most thematically compelling movies of 2021, this is a classic in the making. It's a shame that this didn't win more Oscars.
Available to watch on Netflix
1. Titane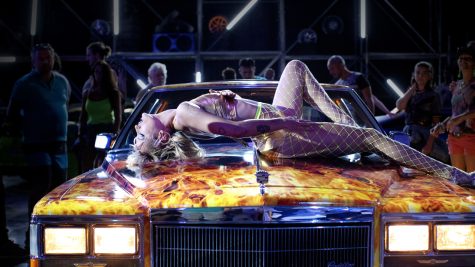 Without a doubt, Titane is the weirdest, most disturbing, and viscerally repulsive movie on this list. But no other movie that came out in 2021 made me love movies as much as this French body-horror film about a woman who (and bear with me here) is impregnated by a car and hides as a man to escape persecution for a crime. Director Julia Ducournau does a masterful job at keeping this insane film somehow grounded in reality and even emotional throughout the plot. I won't lie, I almost shed some tears when the credits started rolling. It is absolutely fascinating how one can watch and enjoy this movie as a bizarre and bloody body-horror flick, or they can look under the surface and analyze almost every single aspect of the story to uncover the themes of how society has pressured us to hide our femininity, and just how liberating it can be to express who we are. This beautiful and impacting story of a found family, with a delightful dose of chaos, reminded me why I love movies so much. No other medium can capture this level of originality, combine the gorgeous sights and sounds of a movie that is practically on fire, and tell it all in an artistic, interpretive way. I absolutely adored this film and can not stop thinking about it, which is why Titane is my favorite movie of 2021.
Available to watch on Hulu