Ancog places fourth at state speech competition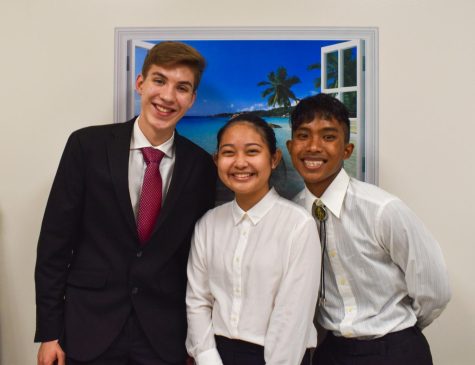 Moanalua Junior Calista Ancog placed fourth and received a bronze medal at the recent state Speech and Debate Competition on April 9. 
Ancog was one of three Moanalua students–the others being junior Joseph Barroga and senior Cole Wright–competed in the Dramatic Interpretation category, in which contestants memorize a script and recite it with their own flair. Students play all characters within their script, using their different tones of voice and expressions for each individual person. They are not allowed to use any props, and have to rely on their own acting skills to sell their story. 
Ancog selected her piece, "88 Keys" by JJ Jones, from a catalog of scripts. The script told a story about a girl who hated playing piano. After her piano teacher died, she discovered how her teacher was actually teaching her life lessons.
Acong joined the Moanalua Speech and Debate team to become more outgoing and outspoken. 
"It's (speech and debate) is fun, and it's helping me," Ancog said. "I'm doing much better in-class presentations."
Although the season for the Speech and Debate team is over, there are strong hopes for next year.
"I hope to get first place next time, going for the gold," Ancog said. "I would love to go to Nationals. That would be so cool."