Students beat the heat under the new tent in Mene Square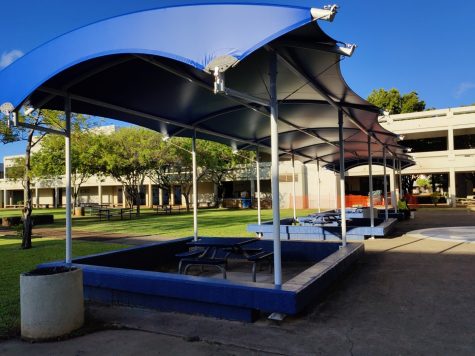 After years of gathering in the scorching heat, Moanalua High School students will have an opportunity to sweat no more. Students can congregate at tables under the brand new shade structure in Mene Square. State and private construction crews were able to install metal and vinyl covering over the three planters in front of M building.
Moanalua High School Principal Robin Martin said she has been wanting to get this done for about six years after the large ficus trees that had been in the planters were cut down after the school realized the mold on the leaves was making students and teachers sick.  The covering was originally supposed to be built three years ago, before the COVID-19 outbreak. However, the company Martin had selected to install the structure decided that they couldn't do it at that time.
Finding a contractor who could plan and install the bright blue coverings was no easy task. Martin said she asked for help from the Moanalua High School PTSA and the local military to help fund this huge project. In the end, the total cost came out to nearly $200,000. 
"I've kind of been trying to save up the money to do it, and we finally put the money together and got a company to do it," Martin said.
Students have said that they're really grateful for the tents, as it will be beneficial for the entire school. 
"It's really good because it covers the hot sun and the rain," freshman Kaitlin Huang said. 
"All of my friends eat here and we just sit down and talk story," junior Davin Shin said.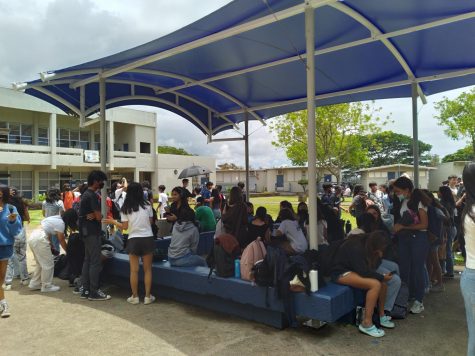 Both students and staff eat under the tents every day for lunch and they think that it's beneficial for everyone at Moanalua High School. However, students don't only go here during lunch, it's a hang-out spot for any time of day. They go here before the first bell rings, during recess, lunch, and after school.
The new shade covering won't be the only thing being built this year. Starting in November or December, the softball and baseball field will get new turf. Federal money under Title IX gender equity laws will pay for this project. In addition, the school is replacing its aging elevators, a project that will take at least a year to complete.