Lights, Camera, Classes in action!
Unlike previous school years, this year's homecoming week is set for the beginning of September. With the week coming up soon, classes are scrambling to prepare for the competitions. 
Hoping to place higher than they have before, the senior class recruited more than 60 students to help out during the summer in various committees. This included a floorshow team, props team, and banner team. Class officers are planning to recruit people for the cheer team in the next few weeks. 
"Our class of 2023 is notorious for coming in last whenever it comes to things dealing with spirit, but we're hoping that because it's our senior year, we can have more spirit," Senior Class Vice President Coby Chang said. 
This year's homecoming theme is Lights, Camera, Action! The class of 2023 intends to incorporate the vibe of Hollywood and the Walk of Fame into their banner and floorshow. Both committees are nearly done with their projects. 
"I expect to come first this year…it's going to be tough, but I believe that we can change from what we usually place," Chang said. 
Juniors have been preparing for homecoming since the late fourth quarter of last year. Though they are still actively recruiting, they have approximately 100 students contributing to the overall committees, making this the Class of '24's most participated homecoming.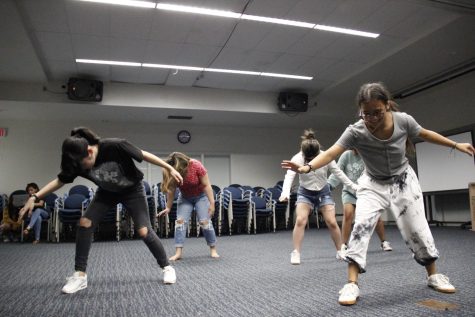 The Juniors are planning to let their creativity shine, with their interpretation of the theme Lights, Camera, Action, inspired by the movie Lemonade Mouth. They are very excited for homecoming and are already finished with the majority of their banners and backdrops. They are still working on their cheer and for the upcoming competition. 
Vanessa Schlegel, the Junior class adviser said, "I believe that the juniors will do good if they continue to do their best, and recruit more people to join. I think they have a chance to win this year's homecoming." 
The sophomore class has been working hard these past couple of months to ensure they come on top of this year's homecoming season. The class of 2025 works nearly every day to make sure they perfect their homecoming banners, floorshow, and more. Sophomore class president Charlize Choban said that the class has been practicing for homecoming since April. 
"Having daily practices this past month and throughout summer has helped us manage our time wisely to prepare for hoco," Choban said.
The sophomore class has around 50-60 people participating in their events throughout the homecoming week. The group participating in homecoming is a little nervous about homecoming coming so soon, but Choban feels that the time crunch will just motivate them even more. 
"I think we will be prepared when the time comes," Sophomore Class Homecoming Chair Jayla Wada said. "We've come a long way since a month ago. I'm proud of what we've done so far and how many people have made improvements in their dancing, acting, art, and overall helpfulness."
 This year's homecoming is the class of 2026's first. Class of 2026 is planning on implementing a High School Musical theme in their floorshow and banner. Most of their projects are already completed.
"This being the freshmen's first homecoming, we feel very excited and very spirited," Freshman Class President Jerijoe Aceret said. 
The freshman class this year has about 50 students helping out in their homecoming, with students divided into different committees. They are hoping to find more people to participate in the class song. 
With homecoming right around the corner, all of the students who have been helping these last few months will be perfecting and finishing up dances, banners, and other arts. Homecoming week begins this Friday, September 2, and ends next week Friday, September 9.