Local ingredients star in Mene Culinary's Aloun Farms gala
Local ingredients shined in the spotlight at the Aloun Farms 9th annual culinary competition. Last month, Moanalua's very own culinary program participated, serving a dish that they created themselves. They competed with seven other public schools including Waipahu, Kapolei, and Leilehua. The competition, organized by Aloun Farms, sought to highlight local ingredients grown here on the island. 
Culinary teacher Lars Mitsuda and his students entered their Luau Leaf Pasta with Kaua'i Shrimp. 
"We make a lot of pasta in class and the theme is using local products," he said.
He explained that the luau leaf was actually incorporated into the pasta dough. And because they were using a lot of Asian flavors in class, they incorporated that aspect into their dish. They used ingredients like basil, fish sauce, garlic, and chiles in their pasta. 
Following the competition, Aloun farms held a gala to raise funds for the high school culinary programs across the island.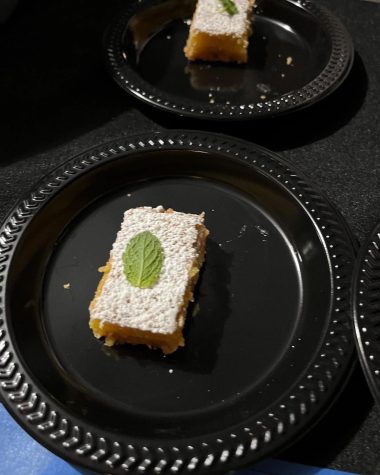 Moanalua was invited to serve their dish as well as a dessert. Baking and Culinary teacher Justine Perkins decided to go with Mac Nut crusted Lilikoi Bars. This was served with Meadow Gold ice cream, which was one of the event sponsors. 
Because they had to make around 300 servings, Perkins said she wanted something that could meet the demand as well as not succumb to the heat. The three-day process started with her and her students making the crust, then the mix, and finally baking it off and transporting it to Aloun Farms. The Lilikoi Bars were a hit, and at the end of the night, they were all gone. 
Although Moanalua didn't win any awards, Mitsuda still considered the event a success. 
"It was good for the kids to get exposure to see what other culinary programs are doing and to give them that sense of real-life competition," Mitsuda said. 
He said that he and his students gained a lot from this experience.