Menes march with Bows at Meadow Gold High School Junior/Senior Night
Hoping to refine their marching and music skills, several Moanalua students joined the University of Hawai'i at Mānoa (UH) marching band for their annual Meadow Gold High School Junior/Senior Night October 15. The event was advertised to Oahu's high school juniors and seniors as an opportunity to experience the college band atmosphere, bond with members of the band, and learn about the opportunities at UH.
"It was a fun experience and I thought that [UH's] school spirit was really great," senior tenor saxophone player Gento Kaname said. 
Participating students received the music a few weeks ago and were asked to practice and memorize the music on their own. The musical selections from the night included: Co-Ed (UH's Fight Song), Hawaii Five-0, and other pep band songs. For the halftime show, participants played a medley of K-pop songs which included: "How You Like That" by BLACKPINK and "Dynamite" and "Mic Drop" by BTS. 
The students first met the UH band members a couple hours before the game, and had about three hours to learn the routine and rehearse the music together. Senior cymbals player, Lauren Kim, said that they ran onto the field in between the rows of the UH players to create new rows during the halftime performance. 
"Their practices were much more laid back than our practices," Kim said, "the experience was great and I learned a lot about what it was like to be in marching band at the college level." 
Senior alto saxophone player Yuhong Huang's most memorable moment of the night was bonding with the UH band members. 
"I thought that their marching band would only care about those within their section, but once we got there, not only did they care about us even though we didn't know any of them, they also cared about the whole band itself," Huang said.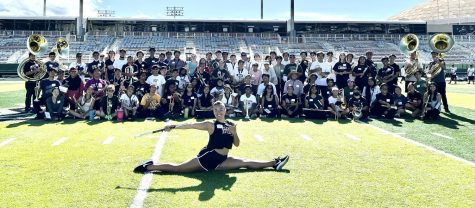 "They opened up to us with open arms…I think that if we bring [the friendship and music] that they had at UH to [Moanalua], we'll be able to connect with each other more and trust each other better," Kaname said. 
The seven seniors who participated in the event were Yuhong Huang, Tyler Ikeda, Gento Kaname, Lauren Kim, Ethan Mina, James Pulido, and Matthew Terry.