Falling for flavors: Pumpkin spice or maple pecan?
Fall is here and so is pumpkin spice. 
Pumpkin spice has been the season's flavor for years since rising to popularity in 2003, when Starbucks released their iconic Pumpkin Spice Latte. 
Love it or hate it, the online opinion polarized. Many claim it's the perfect fall staple while others label it as overrated.  
Starbucks shook the fall flavor world again with the release of the Maple Pecan Latte in 2017. 
Would maple pecan rise to take the crown? 
Na Hoku O Moanalua wanted to see what the Menes had to say. Through a cookie taste test the two flavors were pitched against each other.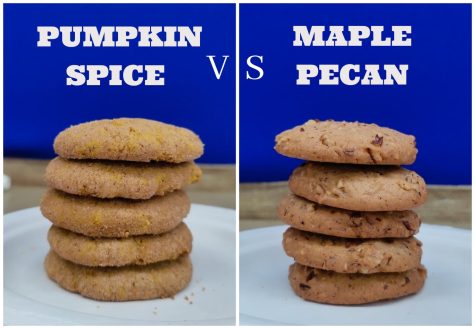 Out of 34 votes, pumpkin spice won in a landslide of 24 to the 10 that Maple Pecan claimed. 
"The aftereffect of the pumpkin spice is cooling to the tongue, and [resembling] the weather becoming cooler," said Senior Trinity-Adara Agustin. 
Pumpkin spice reigns as the prevailing fall fan favorite, but Maple Pecan is making its way into the public's heart. 
"I felt more joy eating the maple pecan [cookie]," said senior Zachary Zeldin. 
Take part in this battle of flavors and make the cookies yourself! Recipes are linked below. 
Pumpkin Spice: https://inbloombakery.com/chewy-pumpkin-cookies/ 
Maple Pecan: https://www.foodnetwork.com/fnk/recipes/chewy-maple-pecan-cookies-8357661 
Let us know what you think by voting on our poll!