No weight too heavy, Lo smashes records at weightlifting competition
Weightlifting is a competitive sport that tests strength and technique. Athletes attempt to lift more weight than their opponents. Junior Elijah Lo went on to Reno Nevada to compete in the international World Association of Bench Pressers and Deadlifters (WABDL) competition, where he won first place in his weight class. 
WABDL gives the competitor four tries, where they start off with their opener and add weight per each try. Entering the world championship Elijah smashed the 180 lbs deadlift world record with his opener of 181 lbs for his weight class. Which already is a great sign for Elijah in the competition.
"My 2nd lift was 205 lbs… my 3rd lift is 235 lbs, and I think my last one was 242 lbs," said Lo.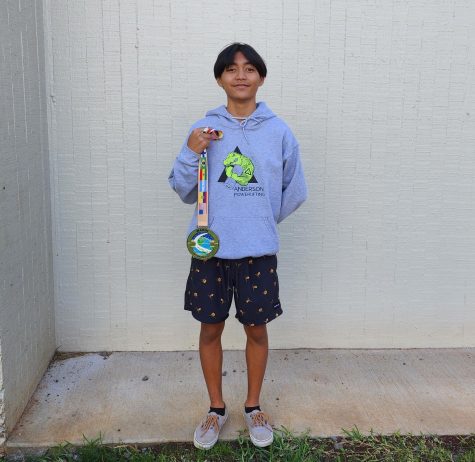 Elijah's weight class is 97 lbs, and the record for deadlifts was 180 lbs. Elijah broke the record by performing 242 lbs on his last lift which is nearly triple his body weight. Elijah finished the competition on top with 1st place and is now the holder of the world record for his weight class.
"I started (lifting weights) in eighth grade when my grandma took me to the gym one day," Lo said. Ever since one of his friends pointed out that he had long arms for deadlifting, he tried it out and fell in love with the sport. 
"My grandma runs this team for Hawaii, where they will go up for competitions like Worlds," Lo said. "They do local events here like Sonny's, which is sometimes held in Big Island."
Lo said his grandmother registered him and others to make a Hawaii team.  He started his journey with Sonny's, where he deadlifted 130 lbs as his max in middle school. 
Elijah's weightlifting journey was put to a pause when he had a shoulder injury. Which left him out of commission for four months, then Covid-19 hit which led to a longer pause. 
"The last week of summer I got back into it," he said. 
Lo came back to weightlifting stronger than ever. Elijah's grandma helped him to get back up to speed by first training his form and then working on strength training to prepare for WABDL.