Japanese Club "Storigami"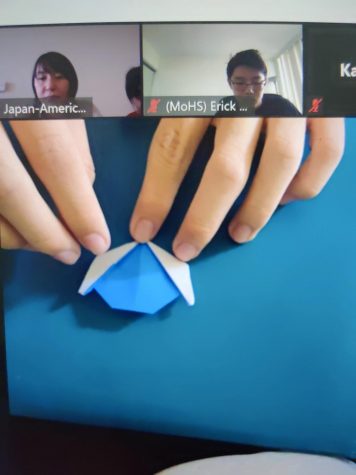 There were no cookies at this story time, but there was origami. The Moanalua High School Japanese Club partnered with the Japan American Society of Hawaii (JASH) February 27 for "Storigami," a gathering that combined storytelling and origami. The Zoom session was interactive in that while a student read the story "Momotaro," another club member demonstrated how to fold origami into the shape of a peach. The 23 participants were encouraged to follow along. 
"I think it went well because almost everyone in the audience was able to make the origami, which I was most concerned about," junior Lawrence Lilly said. 
He was the main coordinator for the event and was in charge of making the visuals and doing the translations between English and Japanese.
Seniors Shoichiro Songco read the Japanese of the story, and Vivian Hui read the English translation.Sophomore YuHong Huang made the origami peach through a livestream for the audience.  Lilly read the post-reading quiz questions and answers in Japanese. Club President Erick Huang, a senior, moderated the event.
Huang said the club worked with JASH to select the appropriate story. They decided upon "Momotaro" because the date of the Storygami was close to Girls' Day, March 3, and because "it was originally celebrated as a peach festival," Huang explained. "So the kids (in the audience) would be able to celebrate with their own peach origami. Momotaro is also a very popular story, and it was the perfect reading level for the kids."
"I was very proud of the students," Japanese language teacher and club adviser Jaimelyn Tateyama said. "They worked very hard and met up and practiced three times prior to the event."