Castle vs. Moanalua – Game Recap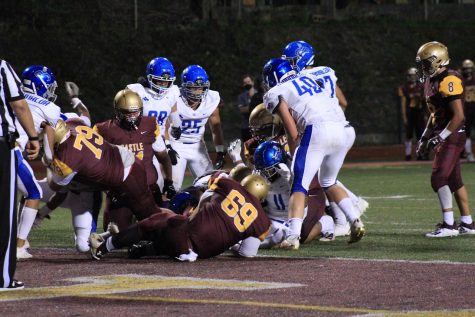 The Na Menehune varsity football team extended its perfect record last Saturday by thumping the Castle High School Knights 49-26 in Kaneohe.  
Quarterback Taylor Malloe took advantage of his wide array of "tools" to tinker with the Knights' scrappy playing style and score the most points in a game since the 2018 season. Ruben Chavez, Kindred Malakai, Jayce Bareng, Cameron Johnson, Ryson Lum, and Pila Goo each contributed six points. Kicker Alex Heim hammered in the extra points.
The game started off with a thrilling 74-yard kickoff return from Andy Canencia. That explosive opening gave the team the momentum it needed to overcome a string of early-game encroachment penalties and find its footing on the field turf.
Castle tied the game late in the first quarter with a 1-yard run on fourth and goal, but then the team never really challenged Moanalua after that. A 21-point second quarter saw Na Menehune sitting at halftime with a comfortable 35-20 lead.
Freshman dynamo Jayce Bareng was the team's leading receiver with 137 yards over eight catches. Senior Malloe recorded an impressive 16 completed passes on 30 attempts for 225 yards. Moanalua is now 3-0. They will face the also-undefeated Waipahu High School Marauders this Friday at home.