Seniors Propose Cap & Gown Color Change
Most students seem to support the proposal to promote inclusivity and unity at a time when it is needed most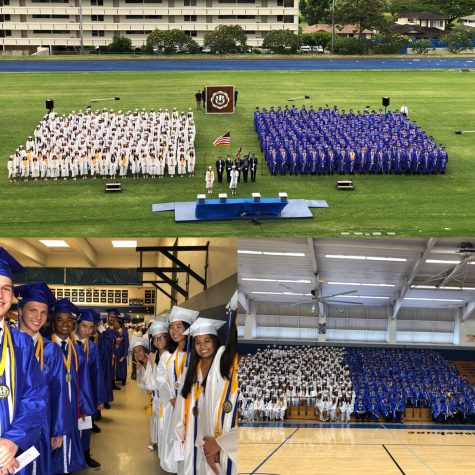 As a progressive step towards unity and gender inclusivity, the class officers are surveying the seniors to ask if they want to change the graduation cap and gown colors from blue for boys and white for girls to one color for everyone.
The Graduation Committee has suggested this approach in an email to the class last week, explaining that the purpose of the change was to bring the class together one last time while also ensuring no one feels subjected to wear a specific color. 
"No matter what your gender, ethnicity, race, etc. we are all equal and we all want to enjoy our graduation and senior year together," Senior Class President Taylor Katahira said. 
The change would allow people who identify as non-binary, transgender and gender fluid to feel more comfortable at their own graduation. 
Kane Ruiz, a senior and transgender male, believes that the senior council wants, "to unite the class and also help with making [graduation] [more] comfortable gender-wise."
"It's important to me because I think we would all look good and united wearing the same colors together." Ruiz said. 
"I think it should be one color because it not only [represents] the unity, it [also] won't force people with different genders to reveal themselves," said senior Jackie Tran. 
Some seniors would prefer to keep cap and gown colors according to gender.
"…I've seen so many of my friends graduate in that white gown and I remember thinking how I couldn't wait to be in their shoes," senior Vinca Mulyana said.
Despite her own opinion she understands the proposal's purpose. "I would like for everyone to feel included especially on such a special day," Mulyana said.
Shelly Koyanagi, Class of 2007 adviser, noted that parents prefer blue and white because it made it easier to distinguish between the graduates, but she said she understands that "times are changing" and she can "see the merits of going one color for the entire class."
If the vote for one color wins, the class would then be polled on all blue or all white gowns. From a practical standpoint, if the girls also wear blue, will make clothes shopping less stressful. 
Having everyone wear the darker color "makes it easier for everyone to find outfits to wear under the gown," social studies teacher and Class of 2016 adviser, Lauren Kiyono said.  "One of the struggles for the girls was finding a white dress to wear under the white gown." 
This topic actually came up three years ago, when the Class of 2018 put the topic to a vote. 
"We actually put it to a vote during my year as well, but the students wanted to continue the tradition of having two colors," social studies teacher and Class of 2018 adviser Margaret Travers said.
Although blue and white gowns are seen as a Moanalua tradition, the original practice was to wear all blue. It was the Class of '91 that first split into blue and white, and it has carried on since then. 
"Some girls brought up the idea of girls wearing white at a student council meeting, so we put it to a vote, and it won," Student Activities Coordinator Sherwin Pang, who was the class adviser then, said.
"I do think tradition is important, but in this case, I don't think it should be the reason we keep two cap & gown colors," senior, and former Class President, Miah Emerson said. 
Seniors have until Wednesday, September 16 to vote.