Fine Arts Goes Virtual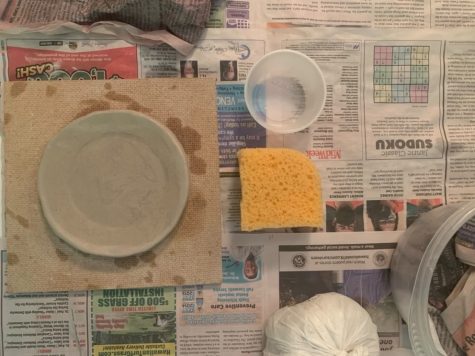 Art student and sophomore Jenny Myung is taking Ceramics 2 this year. With the art studio off limits during the lockdown, she has to pick up supplies from school and work on projects from home.
"Last week, my teacher explained to us about the materials to prepare and I am going to pick up clay this week," Myung said. 
Ceramics teacher Makana Wong is making the unfamiliar situation as easy as possible for his students.
"For actual instruction I plan to make videos to help guide the students through the clay process," said Wong. "During finals week I would have the students bring in their projects so I can fire them and give them a grade. It is not the perfect system and I still need to work out some kinks, but at least the students will still be able to play with clay."
Since the start of the COVID-19 pandemic, students and teachers at Moanalua have been forced to go completely online. While adjusting to learning and teaching completely virtually for the first time, both students and teachers have realized that there are many differences from face-to-face classes. 
Students prepare for classes differently with internet devices instead of writing materials being essential for students. What about non-writing classes like fine arts, which consist of drawing or making things by hand and require tools or other materials? Many students signed up for fine arts courses last school year with a completely different impression from the reality of today.
Art is an interactive class with contact between student and teacher being essential for learning. So learning through virtually can be a challenge. Like other classes, art teachers are using Google Meet to hold online classes and assigning homework using Google Classroom. But outside of this, arts students are still thinking and creating on their own time.
"
"I'm still as interested, but the fact that there's no teacher instructing it with me in person worries me." "
— Logan Etuatl
When dealing with the reality of taking art classes online, fine art students such as Logan Etuatl, a junior, said, "I'm still as interested, but the fact that there's no teacher instructing it with me in person worries me." 
"I think I can learn faster if someone is looking over my shoulder," said Joey Fortit, a junior in General Art 1, his first art class. 
Teachers are doing their best to make assignments as straightforward as possible.
"My teacher taught us some basic skills in drawing virtually and he posts assignments through Google Classroom," Fortit said.
Some students choose to embrace the unusualness of this year by keeping an open-mind. A Ceramics 1 student and junior, JaidaLyn Kamaunu said, "I initially signed up for general art but it was replaced with ceramics… but i'm not complaining because I really would like to grow different skills in art since i have a big passion for it. It's also nice taking it now in high school since actual classes are expensive." 
Although distance learning has caused worry for fine arts students, many look forward to the creative liberty being at home will allow and are excited for what is to come of it.