Vaccine to the Rescue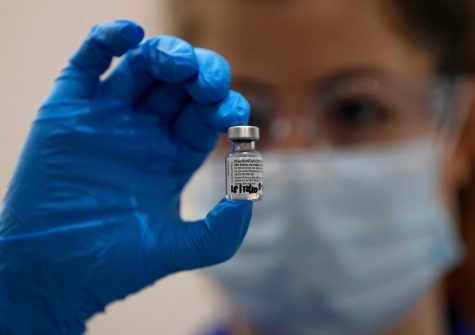 Health care workers in Hawaii will be able to receive a COVID-19 vaccine as early as next week, according to Gov. David Ige. 
After many months rushing to develop a vaccine for COVID-19, two vaccines from Pfizer and Moderna are seeking Emergency Use Authorization (EUA) approval from the US Food and Drug Administration (FDA) to distribute their vaccines to the general public.  Yesterday, an FDA advisory panel recommended that the FDA grant the emergency use. If officially approved, the state, which has ordered 5,000 doses immediately, and up to 76,000 more by the end of the month, can start administering them to health care workers and both residents and employees of long-term care facilities, according to the state's Phase 1 vaccination plan.
Last week the United Kingdom became the first country to approve the vaccine developed by American pharmaceutical company Pfizer with German company BioNTech. 
Vice President Mike Pence, who leads the White House's Coronavirus Task Force, announced December 1 that a COVID-19 vaccine could be approved by the FDA by the middle of this month. An EUA can be approved if there is a public health crisis that requires immediate attention.
 "With cases rising across the country, we are still going through a challenging time," Vice President Pence said. "Help is on the way. We are just days away from being able to distribute a safe and effective coronavirus vaccine."
This news comes at a time when coronavirus cases in the US have increased to over 150,000 cases per day. To date, over 15.6 million cases and 292,000 deaths have been reported in the United States. 
Both the Pfizer and Moderna vaccines use a new technology called mRNA which demonstrated efficacy rates of more than 90 percent. mRNA is how these vaccines were developed so quickly.
Most vaccines use weakened or inactivated viruses or bacteria to force the body to create an immune response. mRNA vaccines instead teach cells how to make the protein to develop immunity in the body. This immune response produces antibodies to protect people from getting infected if they are exposed to the real coronavirus. Two doses, injected a few weeks apart, are required for both vaccines to work.
A key difference between the vaccines is how they are stored. The Pfizer vaccine must be stored at a temperature of minus 94 degrees Fahrenheit or colder while the Moderna vaccine does not require ultra-low temperature and can be refrigerated safely between 36 to 46 degrees Fahrenheit.
Hawaii Lt. Gov. Josh Green said at a press conference earlier this week that, "We expect to need at least 35,000 to 40,000 for our essential health care workers, and all of the people around them, and those in nursing homes and assisted living facilities would also be included in the first group to be vaccinated."  
Other workers included in Phase 1 include first responders and other high-risk workers. Phase 2 would include "critial populations not included in Phase 1," according to state Health Director Dr. Libby Char. The general public would be eligible in Phase 3. 
According to the Centers for Disease Control and Prevention, all adults should be able to get vaccinated in 2021.