The First To Grace The Stage
Lights! Camera! Action!
The Performing Arts Center officially opened March 12, and while most of the school community has not been allowed inside, a few lucky performing arts students were able to be some of the first people onstage for the building's dedication. Students in Orchestra, Choir, Acting, Creative Dance and Hula performed at the dedication ceremony, to which only a few select VIPs were invited. The performances were to showcase the auditorium and the Moanalua High School arts program's persistence through difficult times.
The dedication ceremony was a celebratory and monumental day for Moanalua and the students. 
"Everything about the center on the outside and inside was breathtaking, especially the stage itself," senior Brandon Ramos said. He and fellow Beginning Acting students performed excerpts from the musical "Grease" for the guests.
Students were amazed by the new equipment and space of the auditorium.
Junior Sarah Brekke, who performed with the creative dance group, said "the floor felt really nice to dance on. The lighting was everything and it felt different compared to dancing in the gym or the cafe."
However with performances comes nervousness and junior Kelsen Jake Martinez, an Orchestra student said he was "nervous and anxious at first, but Mr. Seta told [the class] to "simma" and remember our purpose, which was to spread joy and hope." 
Many students were honored to perform for the ceremony and be the first students to perform on stage. 
Senior Julian Tolbert, who performed with the orchestra, drama ensemble (where they shared an excerpt from the musical "Mean Girls") as well as the modern dance group, felt "it was such a surreal experience that [he] has been waiting for [for] so long." He said the old drama room was small and the stage was not always stable.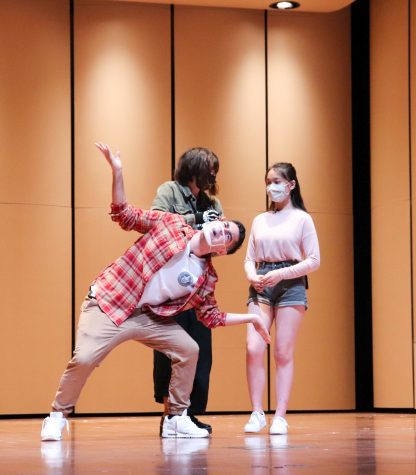 Of course, with online and blended learning each class had to figure out how to practice during a pandemic for their performance. For the Beginning Acting students, teacher Adam Kalma explained that "the actors were required to come to campus after school [for certain] days so that [they] could practice as a cast and best prepare."
Ramos said his group rehearsed "at least twice a week in the dance studio and [at] Mene Square after school for about a month."
Junior Kiara Kanzic, a Choir student, said she prepared by practicing with the rest of PAC 7 (the seven choir students performing) and after school leading up to the performance."
Performing at the dedication ceremony was a special moment for the performing arts students and "after a year of playing apart from each other, being able to play together will be [an] everlasting memor[y]," orchestra student and junior Jules Tabura said.