Time to Tailgate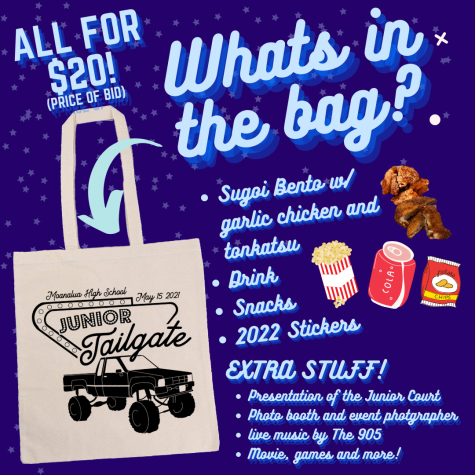 Juniors no longer have to worry about dress shopping or renting a tux, and instead worry about the best way to celebrate their class on the asphalt. After over a year since their last class event, the class will be hosting a junior-exclusive tailgate event on May 15 in the teacher parking lot. 
There will be a movie, presentation of the "prom" court, games, live music from The9o5 (a band composed of four Moanalua seniors), photo opportunities, and raffles. "It will be a great opportunity to see your friends…and safely enjoy a fun night together before the end of our junior year," said class Historian Juliana Tabura.
A tailgate was "one of the most plausible options" considering COVID restrictions for large gatherings, said Tabura. 
Groups of ten will be seated picnic-style in their designated parking stall to enforce social distancing.
"The Moanalua High School Alumni Foundation has generously agreed to pay for four lucky [junior's] senior prom bid[s]," said Class Adviser Neilson Ishida in an email to the juniors. 
A ticket to the event also includes "a yummy bento, popcorn, [and]… tote bag" said Cassidy Furutani, a decorations committee member.
Juniors can purchase bids for twenty dollars until Friday, April 23. Forms were sent via JupiterEd and email; they can be turned in at F301, Q202 lab, or sent via snail mail with attention to Mr. Ishida ℅ 2022.
"I was looking forward to [prom] the most [but] I'm still excited to attend the tailgate [and] see my friends again," said junior Ethan Tabarejo.