Hungry students face long lunch lines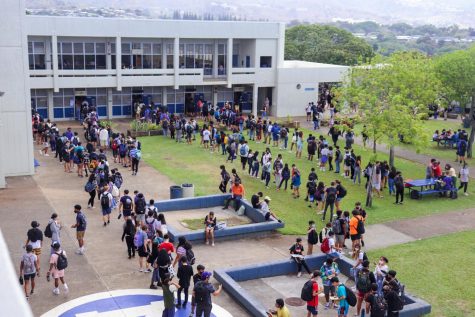 Waiting in line for cheese bites will take even longer due to the popularity of free school lunches for Moanalua's Menes. All Hawaii public schools are now offering free school meals (one breakfast and lunch) because of a national COVID relief program to support students' eating. The waiver is funded by the U.S. Department of Agriculture. Students have been fond of the new program, causing longer lines.
Moanalua has seen a forty percent increase in meals "sold" in the opening weeks of school in comparison to previous lunch numbers. 
"About 200 to 400 more sales are made [daily]," Acting Cafeteria Manager Nicole Nishikawa said.
August 6 was the highest day, totaling 1,200 meals sold, a shocking increase from the usual 700 trays the cafeteria served up in the 2019-2020 school year, the last time the entire population was on campus.
The Student Center lunch distribution line wrapped along F building until a second line was added, and the cafeteria's three lines spill into Mene Square.
The lines are "pretty long and It takes a while just to get to the cafeteria," said junior Dylan Gomez. 
"I was scared when I saw the long lunch lines… and I didn't know [if] that [was] safe," said senior Olivia Akina.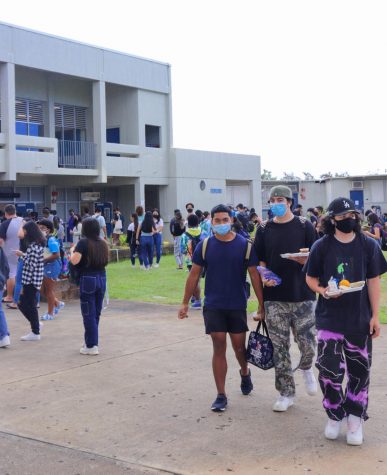 The statistics come as a surprise since public school cafeterias were told to expect about a 100 more sales. The prediction was based on the number of free lunches distributed over the summer at select public schools.
Because demand is greater than what was planned for. Nishikawa and cafeteria staff are taking it "day by day" to find supply. All public schools share suppliers and have resorted to "calling around" for items like utensils, said Nishikawa. 
"I had to call Kalihi Elementary for two cases [of forks]… and Ewa Beach Elementary for four cases," Nishikawa said.
Despite the tight situation the staff remains optimistic.
"It's really fun to think outside the box," said Nishikawa. "It's a different type of challenge… [but] you gotta do what you gotta do."