Mock trial prepares to pack the court
Club sees record interest in this year's recruitment process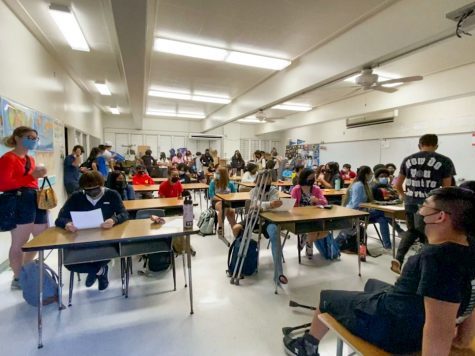 Court is in session for Moanalua High School's 2021-2022 mock trial team. This year's mock trial turnout hit a new record with approximately 85 people showing up to their orientation meeting, a huge shock to the club's officers. Last year's team had only 20 competing members.
For the last two years they have been short-handed and now they have more than enough members to fill a courthouse. 
"We weren't expecting a turnout this large," Ryder Quon, this year's mock trial president said. "We were thinking maybe 30-40 people were going to join."
Quon thinks that the increase in interest for mock trial came from being forced into virtual learning. COVID-19 caused new incoming freshmen from knowing what kind of clubs there are at our school. Now that we are back in-person, clubs are advertising themselves to both freshmen and sophomores and getting double the amount of people they normally would. Virtual learning had caused people to stop exploring the communities that they had wanted to be a part of. 
"Since we were one of the more widely advertised clubs…people jumped at the opportunity," Quon said.
"I joined mock trial because I wanted more experience with arguing in a realistic court situation," sophomore Jameson Huang said. 
The mock trial team says that they are planning to accept everyone that joins as long as they stick around. Mock trial is a great place to make new friends and try something new out. You can join for fun, or if you want to go into law, it looks really good on your resume. The mock trial team is very excited for this up-and-coming school year and they are happy they got such a large influx of new members.
The team practices two afternoons a week and one weekend day. The hours have paid off for the team, as Moanalua has ruled as state champions in nine out of the past ten years, defeating public and private schools from around the state. 
"The thing I am most excited for this year is seeing the new members succeed in competitions," Quon said.