Science Academic Team competes in hybrid Science Olympiad
The Science Olympiad goes hybrid with in-person and online events. This year, Moanalua has teams competing in nine different topics, with four of them being held in person. The in-person events were held on Saturday, February 5th at Leeward Community College with various safety measures. 
 The in-person teams had to show proof of full vaccination, wear masks at all times, and sign up for time slots to compete. 
Senior Ella Nicole Viray and Junior Kaitlyn Takasawa were one of the teams to compete in person in the event "It's About Time." In the event, they had to create a device that could accurately measure a range of times. Their time slot was 45 minutes long. During the time period, they tested their time measurement device that they had spent a week developing.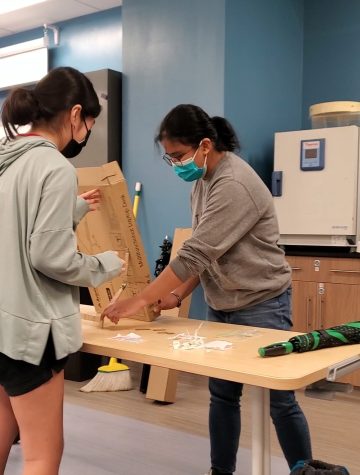 Viray and Takasawa's device was basically a box with a series of chutes and a wall where a marble would be released down the track and the time would stop when the marble hit the wall. They had time before the official trials to calibrate their device, but they also depended on their calculations to figure out how long it would take a marble to travel a certain distance and get as close as possible to the target time.  
"Personally, I like this year better than last year, but not as much as my sophomore year," said Viray. 
In Viray's sophomore year, the tournament was held completely in person and the entire Science Academic Team was able to attend and support each other. In between events, they bonded while studying, playing games, and eating snacks together. In-person tournaments lend themselves to creating team bonds and offer more of a range to the events. For example, this year the lab portion of the chemistry lab event was cut off and hasn't been offered since the last completely in-person tournament. 
"Still, I'm grateful that I got to compete in person for an event this year," said Viray.
The online events started on the 5th and wrapped up on the 12th. 
Juniors Sofia Gonzales and Kaitlyn Takasawa participated in the online event "Cell Biology." In the event, they had to take a test about cell biology. They worked on two separate computers but the test was connected. If one were to click something it would show up on the other person's screen too. 
The tournament results are expected to come out on the 16th.