Off The Wall: Art team wins big in national Vans competition
Art program wins $50,000 and students receive free Vans merchandise and concert
The Van's Custom Culture high school shoe design competition was one for the ages here at Moanalua. Our school's art program was able to win $50,000 dollars and plenty of free Vans merchandise for students to receive. Students went off the wall for the free Vans t-shirts and hats.
The team, under the direction of art teacher and team adviser Jeffrey Fujimoto, has been entering this contest for the past 13 years and finally emerged victorious.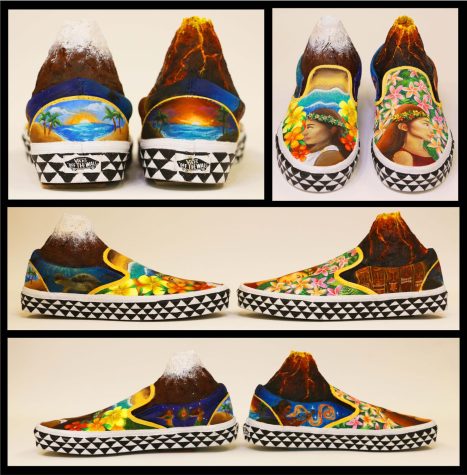 The themes for the competition included "hometown pride," where the shoes would include local state spirit on their design and Vandorean shoes that paid homage to the late co-founder of Vans by designing four different themes all on one pair (street culture, action/sports, music, and art). 
The art team included various aspects of these select themes in their shoes, especially giving off a local spirit appearance. They took seven weeks to complete the competition-winning shoes. 
"The paint we used bled through the fabric of the show, so we had to go back and add multiple layers," Junior Dianne Cabico, one of the team leaders said. "We had to alter the brushes we used because even the fine brushes weren't fine enough."
Despite more than 250 high schools participating, Moanalua was who ended up on top after weeks of online voting.
Not only did this victory bring in a huge payday, but also an outstanding performance by Grammy-nominated artist Bishop Briggs. 
Junior Alia Fatty said this about the concert, "It was just so crazy and wild that she could come out here and give a performance like that for us. She seemed really happy to be here and we were happy to see her too. Overall it was a 10/10, very very nice."
"The award money will be used to support [not supplant] the art department's budget," Fujimoto said. 
Cabico added that the department hopes to take students on more field trips and create a digital art studio. 
The members of this year's team are seniors JaidaLyn Kamaunu and Jenn Francese; junior Dianne Cabico; sophomores Daysha Lynn Gonzales, Emily Yanos and Geanelle Ramirez; and freshmen Ya Wen Liu, Yvonne Liu, Olivia Yoshida, and Pikakepoinaolemaikalani Lee.
The shoe design is posted on the Van's Custom Culture Instagram page.