JROTC takes second in first "Challenging" competition
Moanalua's JROTC Special Teams started this year's competition season with a second place overall finish at their very first competition for the school year. They competed in the Hurricane Challenge which was held at Kapolei High School last month. With a total of around 13 schools, Moanalua definitely held its own, doing well in all the categories they competed in. 
"The cadets worked really hard, practicing in the morning before class and after school," Moanalua High School JROTC teacher Sergeant Socrates Plantilla said. 
He said that the cadets prepared themselves as best as they could to compete against the other schools.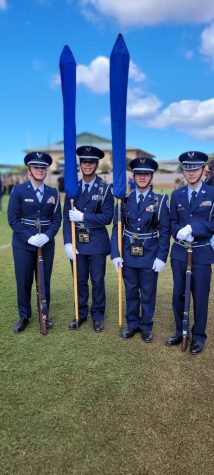 JROTC typically participates in three different competitions throughout the year. In this first competition, Moanalua competed in four  different categories: unarmed regulation, armed regulation, armed inspection, and color guard. They placed second in unarmed regulation, third in armed regulation and armed inspection, and first in color guard. The scores from each category are then totaled up, giving each school a cumulative score. 
Kapolei came through with first place, beating out Moanalua to get the top spot. The scores were close, however, with Moanalua only being 15 points behind Kapolei.
In each category, teams perform a sequence that they practice regularly. Scores are given for each step in the sequence. For example, in color guard, scoring would depend on the team's marching, commanding, and rifle skills. 
Color guard Commander C/Capt. Tupuivao Hendrich said he felt that his sequence went well but was genuinely surprised that they ended up getting first in his category. He was happy with the result because he and his team of 25 cadets had worked hard.
Moanalua's JROTC team is keeping busy, practicing for the next competition in January.