DECA innovates, blazing a path to the future
Moanalua High School's DECA business class students again won big at its annual state competition earlier this year. Twenty-nine students participated in the 2023 DECA Hawaii Conference at the Ala Moana Hotel Feb. 1-3. 
"You're given a business case scenario in one of many categories," DECA advisor and business teacher Joelle Kramer said, "and you have anywhere from ten to thirty minutes to prepare for it and you give about a ten to fifteen-minute impromptu presentation to a business professional" who will give an assessment.
There are two different types of competition, the individual category and the team category. Rylan Ganeko, a senior and president of the DECA club, entered the individual competition. As an individual, "you get ten minutes to read your case out, and the next ten minutes you're presenting your solution to a judge," Ganeko said. For the team competition, teams of two will have thirty minutes to read a case and fifteen minutes for the presentation.
In addition to the presentation aspect, participants also had to complete a written exam. "That test was a hundred questions," Ganeko said. "A lot of it was business-related terms and ideas, so that's a hundred questions in an hour. Well, we're given an hour and a half, but for our chapter, we recommend finishing in an hour since [at] the national competition, that's the time limit."
Leading up to the competition, DECA members spent hours preparing in order to take the top spots. 
"We do practice cases with a coach, so it's either one of the advisors or a past alumni," Ganeko said. He added that they would also use written tests from past years to study for the upcoming exam. 
Kramer said that this year's competition was the first to be held in person since the Covid pandemic, so there were several changes made that their team had to adapt to. "Previously, categories were split up in different rooms." said Kramer, "but this year everything was in the same room which mimics what happens at the national competition" such as the noise level and number of distractions around the competitors. 
Hundreds of people from around Hawaii came to this conference, so Moanalua students were able to meet lots of new people. Ganeko said that members from the Big Island, Maui, and Kauai traveled here just for this event. Even in the competitive atmosphere, DECA members still got to have some fun. 
"We went to Dave and Buster's, we had that rented out just for the DECA," said Ganeko, describing a networking event the students attended. 
Not only were there students present, but some professionals in the business field were also in attendance. "There are opportunities where you get to meet with business professionals," Ganeko said, "and I heard this year they had job opportunities and interviews on the spot."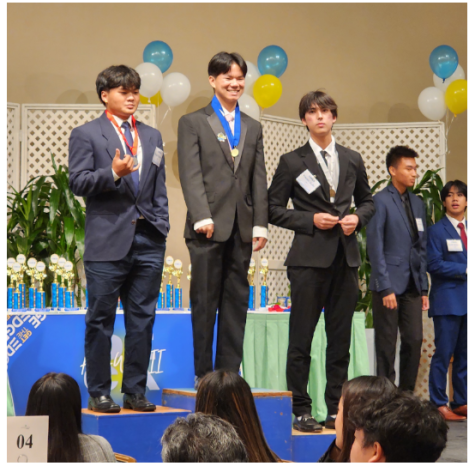 As far as the competition, Moanalua's team exceeded expectations. "This year they did exceptionally well," Kramer said about her team. "We entered seven categories and we took first place in six of them. In the last category, we took third place."
Out of the twenty-nine Moanalua participants, twenty-two were finalists. And fourteen of them qualified to compete in the national DECA competition. "To qualify you had to have made it to the top three basically," Ganeko said.
This year, the DECA International Career Development Conference, or ICDC, will be held in Orlando, Florida from April 22-25. Kramer said as of now, all of their fourteen qualifiers will be able to attend. 
"At that competition, there are schools from around the country and even worldwide," she said. "[There are] about fifteen thousand high school students that attend this conference, so it's a really big thing."
As the qualifiers prepare to advance to the national competition in the upcoming months, Ganeko encouraged students to consider being a member of the DECA club. 
"If you're interested in business or want to improve your social skills or even just meet new people from across the island I definitely recommend joining DECA next year."