Moanalua begins its bliztkreig of OIA East with dominant stream of wins
As far as boys volleyball history goes in the OIA, Moanalua has been in another world in the past four seasons. 
Kicking off a strong OIA East campaign for the fourth year in a row,  Nā Menehune has been marching steadily along in the first part of the season, notching four straight three-set sweeps. After a strong showing against Kalani and Roosevelt at the beginning of the month,  the team continued advancing during spring break with three strong victories, two were league games, and one was a non-league match against Saint Louis.
The first opponent on Monday was cross-town rival Kaiser. The Cougars fought valiantly but were no match for the Menes, who defeated them in three sets.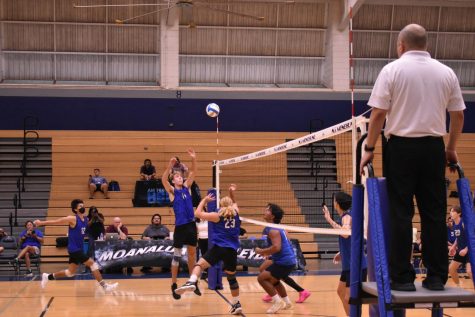 Senior Kai Rodriguez, a UH-Manoa commit, recorded 11 kills that night. This was on a night when he said he was initially feeling under the weather.
The Menehunes capitalized on Kaiser's errors on the line to gain an advantage. Service errors proved to be fatal for Kaiser's contest in the long run, recording 13 errors on the line.
To the Cougars' credit, the team hung on to a fighting chance in the first set, putting 19 and leading by 4 early on, before being overrun by the Menehune offense in a 21-17 struggle eventually leading to a 1-0 deficit for the Cougars from errors. Set scores were 25-19, 25-13, and 25-14.
Zachary Yewchuk, also a future Rainbow Warrior, came in second in the kill lead, claiming eight that evening with senior Christian Tafao hitting for seven and a block in the second.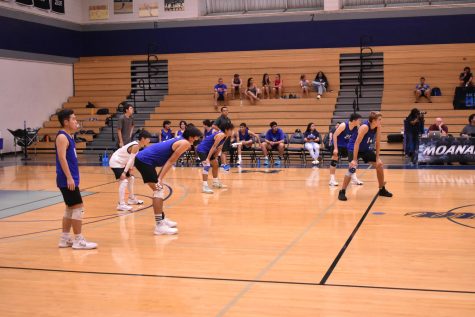 Senior Logan Ho said the team was without one of its starters, Justin Todd. He commended the team for their chemistry after the game.
"Although we didn't have our full lineup, I think our team adapted well to the circumstances and that the end score shows it," he said.  "Kaiser did really great, they're number three [in the OIA East division] and they really showed just how equal they are in strength [in the first set] and in fighting spirit for their team."
Wednesday's double-header against Anuenue and Saint Louis was a battle of extremes. The Menes overpowered Anuenue quickly and then ran up against a resisting Crusaders team.